Kasey S. Pipes, former advisor to President George W. Bush, has written a fascinating new book about President Nixon's post-Watergate years relying heavily on private post-presidential documents at the Nixon Library. The book, After the Fall: The Remarkable Comeback of Richard Nixon, will be in bookstores everywhere on July 23, 2019.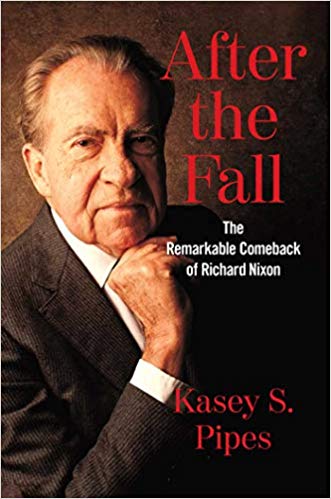 >> Click here to read an exclusive advance excerpt from After the Fall. 
"In a fast-moving, richly researched volume that breaks new ground, Kasey S. Pipes describes that most improbable of political journeys, the post-presidential return of Richard Nixon, this time to the private role of advising Presidents Reagan, Bush, and Clinton on foreign policy.  Drawing on private Nixon family records, letters, and memos, Pipes shows the former president was far more active in helping shape America's grand global strategy—and more successful—than previously realized, even as he suffered political exile. The story is a must for anyone wanting to understand Nixon's life after Watergate." 
―Karl C. Rove, deputy chief of staff in the George W. Bush administration and author of The Triumph of William McKinley: Why the Election of 1896 Still Matters
"The road less traveled in Nixon scholarship is the twenty-year span following his presidency. In After the Fall, Kasey Pipes fills in the missing parts of this journey. Its apt subtitle is The Remarkable Comeback of Richard Nixon. Nixon's regeneration was remarkable. So is this book." 
―Carl Cannon, Washington Bureau Chief, RealClearPolitics
"Based on his exclusive access to Nixon's post-presidential papers, Kasey Pipes has written a fascinating account of Richard M. Nixon's last and greatest personal crisis: rebuilding his credibility after Watergate.  Pipes has mastered and carefully weighed the facts, and he tells the story well." 
―Bruce Buchanan, professor emeritus, Department of Government, the University of Texas at Austin
"Kasey S. Pipes's After the Fall is a book worth reading; it is also a book worth thinking about in deeply reflective ways. 
―Larry Taylor, U.S. Ambassador to Estonia, 1995–1997
> Click here to read an exclusive advance excerpt from After the Fall.