Douglas Paul was plant manager at AT&T in New York, overseeing network engineers receiving and sending transmissions from NASA on the day of the moon landing.
July 22, 2019
Yorba Linda (Nixon Library) –  Douglas Paul witnessed the moon landing before billions did across the planet. By microseconds.
The former AT&T plant manager and U.S. Marine Corps veteran discussed his unique role in transmitting the video from the Apollo 11 astronauts on the moon to television sets across the world in a seminar at the Richard Nixon Presidential Library, as part of "Earth to Moon" the Library's 50th anniversary commemoration of the moon landing, presented by AT&T on Saturday, July 20.
Four hours after the landing, President Nixon telephoned the astronauts from the Oval Office at the White House.
Paul said that the original transmission from the astronauts' cameras had been pixelated. It was his team's job at the AT&T plant in New York to give the three major networks — ABC, CBS and NBC — a feed in sharper resolution, 525 lines on a standard television set.
Paul explained how the images were transmitted from the moon to across the Earth. It started from the moon to the NASA center in Australia, then back up to space in a satellite over the Pacific, before it was sent down to an AT&T receiver on the West Coast. It was then networked across the country to New York.
Paul's team sent the content to NASA's Mission Control in Houston for quality control, and when they received it back they provided the feed to the networks.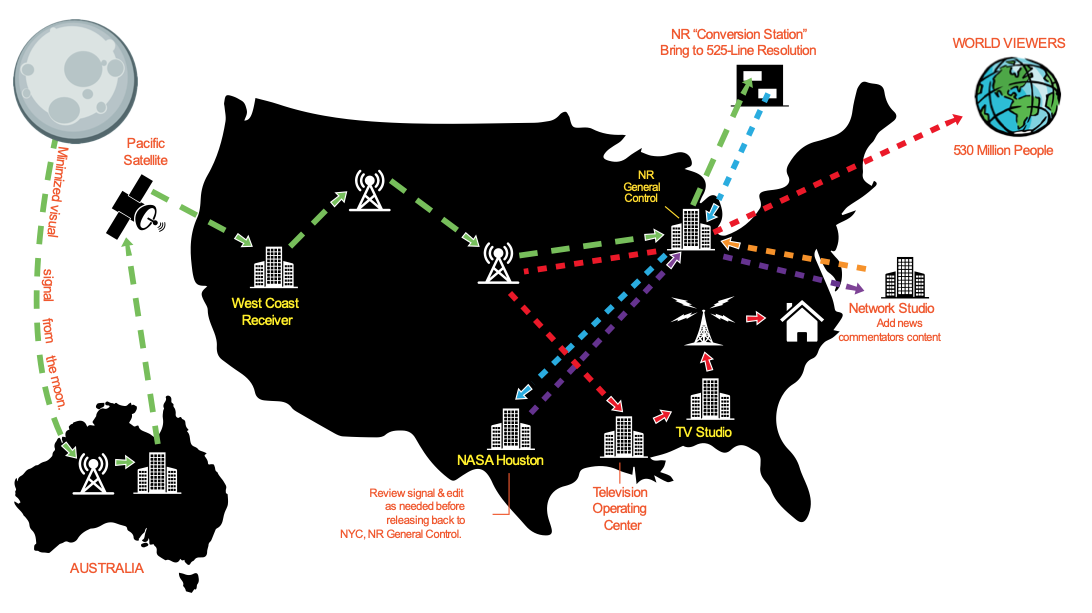 Chart presented by Douglas Paul, which demonstrates how video was transmitted from the moon to television sets across the world.
AT&T was operating completely at the direction of NASA. The space agency gave the telecommunications company short notice that this global television experience would take place. The systems and management processes were already in place.
They were ready, Paul concluded.