The Charlie and Ling Zhang Broadcast and Recording Studio 
Opens at the Nixon Library!
This week the new Charlie and Ling Zhang Broadcast and Recording Studio opened at the Nixon Library. The state-of-the-art studio is equipped with broadcast-quality lighting, three Panasonic cameras, top-shelf recording equipment, and a retractable green screen which will easily enable the regular production of onlinepodcasts, YouTube videos, live or recorded radio and television broadcasts and much more.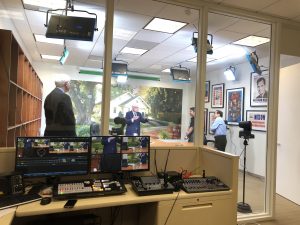 The 350 square-foot studio is expertly designed to allow for live streaming on Youtube and Facebook, allowing the many interesting and timely conversations expected to take place to be viewed as they happen by people across the globe.
The Studio was christened on January 31 with an in-depth discussion between Nixon Foundation President and syndicated radio host Hugh Hewitt and leading Watergate expert Geoff Shepard. Listeners to the Nixon Now podcast should stayed-tuned for this interview, as part of a compelling new series about Watergate.
Star Supporters
The Broadcast and Recording studio was made possible by the generosity of Charlie and Ling Zhang, who's recent $500,000 gift also facilitated renovations to the East Room West.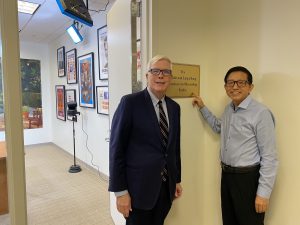 Charlie Zhang immigrated to the U.S. from China with a clarinet and $20 in his pocket in 1980 – just one year after renewed U.S.-China diplomatic relations became official as a result of President  Nixon's historic visit to the isolated country in 1972.  
Zhang went on to create the wildly successful fast-casual restaurant chain Pick Up Stix, but he has never forgotten President Nixon's role in his life, and often declares "No Nixon, No Charlie."
The Zhangs embody the American Dream. The Nixon Foundation Board of Directors thanks them for their continued support of furthering President Nixon's legacy.