NIXON LIBRARY REOPENS MUSEUM AFTER 14 MONTH CLOSURE
Announces plans to honor First Responders,
open Civic Education Center,
expand opportunities for Young Leaders
The Nixon Library reopened May 19 with a red white and blue ceremony to welcome its first museum visitors since March of 2020. Eight First Responders and Frontline Workers —two nurses, two firefighters, two Sheriff's deputies and two school principals— joined four "Presidents of the United States" to cut the ribbon to officially reopen the museum.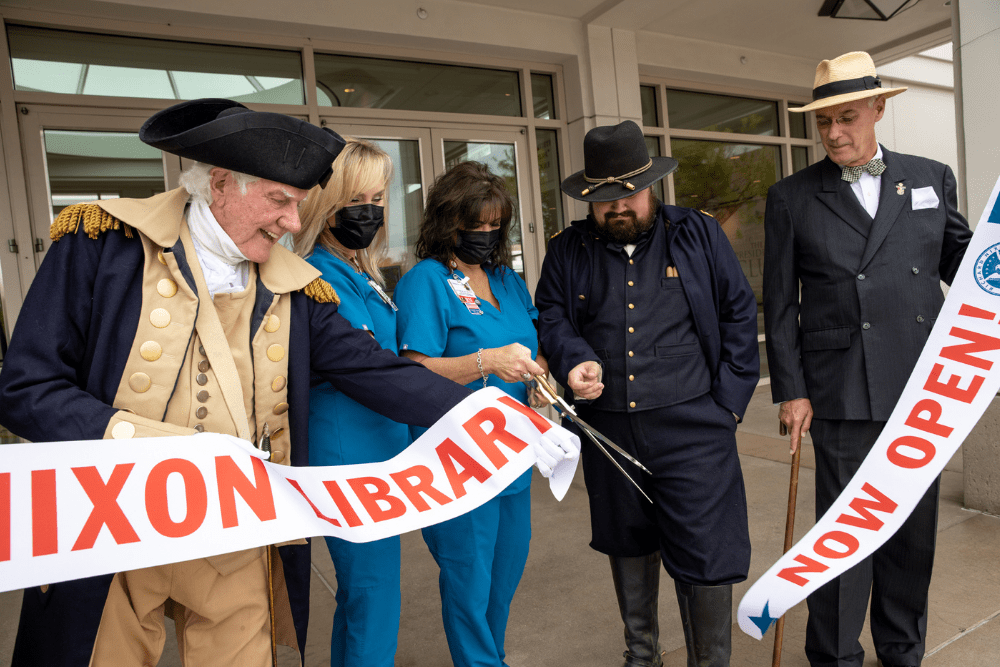 "After 14 challenging months, we couldn't be more pleased to welcome visitors to the first presidential library in the country to reopen its doors," Nixon Foundation President Hugh Hewitt said. "I'm grateful to our partners with the National Archives, to our community leaders for their continued support, and to our Foundation members for their dedication to our educational mission."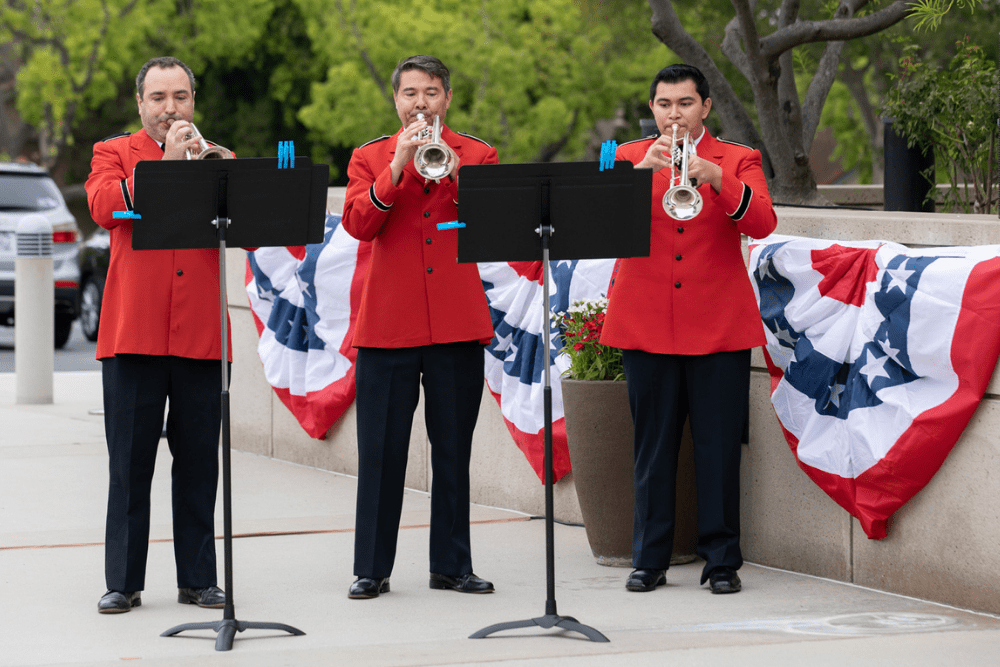 Trumpeters from OC Music & Dance led the festivities with All-American Fanfare including the Star-Spangled Banner and Hail to the Chief.
Three new exhibitions await visitors to the Nixon Library:
The Presidents Club —briefly open for a few weeks last Fall— reopened yesterday. This originally-curated, storyteller exhibition chronicles the fascinating friendships and rivalries between some of history's most well-known U.S. Presidents, from our Founding Fathers to the present day.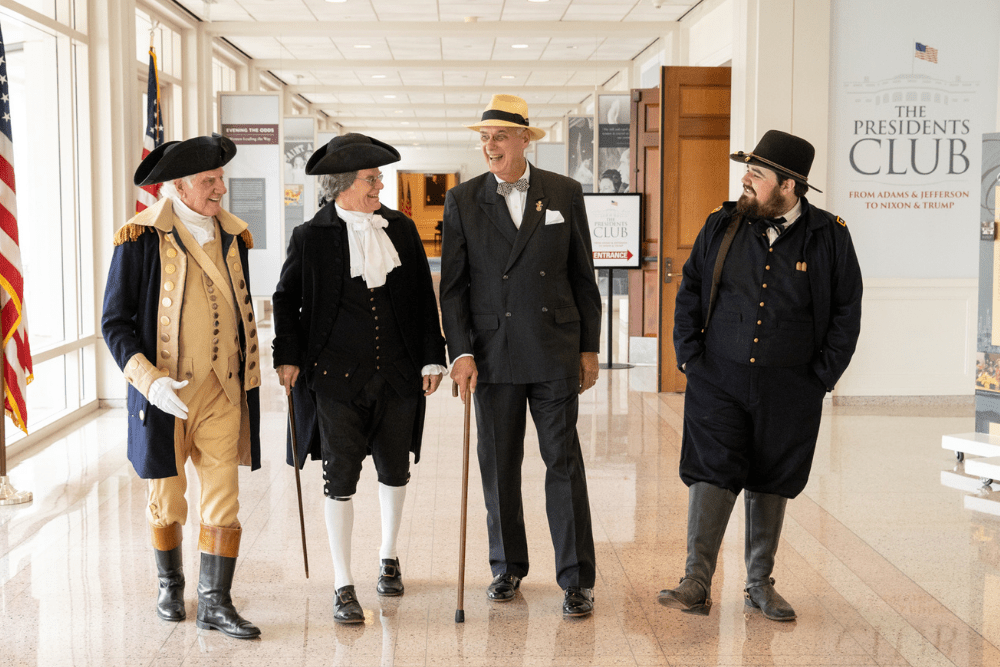 The President and The Planet, an outdoor exhibit perfect for all ages, explores the consequential environmental initiatives of the Nixon administration.
Evening the Odds: Women Leading the Way, a permanent display on the legacy of the Nixon administration's efforts to advance women in athletics, politics, and business.
The President's original farmhouse birthplace reopened as well. The Pat Nixon Rose Gardens continue to burst with color, filled with blooming, picturesque annuals, perennials and more. The Gardens —and the flower-ringed Memorial Site of President and Mrs. Nixon— are open and included with regular admission.
Additionally, Hewitt announced that Tricia Nixon Cox, on behalf of the Nixon Foundation, will lead a Rose Garden Party salute to scores of frontline workers and first responders on June 12, 2021. The Foundation has invited representatives from charities with which it worked to coordinate its 14 month-long Conquering Covid campaign.
Hewitt also announced the Nixon Foundation's intention to create and ultimately endow a Civic Education Center at the Nixon Library.
Hewitt said: "President Nixon was committed to bringing young Americans into the political process; he advocated for the 26th amendment to lower the voting age to 18, and for expanding educational opportunities wherever possible. In that spirit, I'm proud to redouble the Nixon Foundation's commitment to its educational mission by partnering with Southern California educational institutions to promote civic learning and fill a void that exists in our school systems today."
The Foundation will invest in its online distance learning initiatives, and in-person civic education programs for high school students and teachers and will plan to operate them with frequency.
"One of the Nixon Foundation's major post-pandemic priorities is to ensure that the basic pillars of American citizenship are alive and well among school-aged Americans," Hewitt added.
After closing the Nixon Library's doors in March of 2020, the Nixon Foundation continued its work by having:
Coordinated a 14-month campaign to support first responders by hosting more than 40 blood drives, four food drives and acquiring and donating 700,000 masks to schools, small businesses and medical workers.
Migrated its educational mission fully online by adopting new distance learning initiatives.
Hosted then-Secretary of State Mike Pompeo and then-EPA Administrator Andrew Wheeler for major policy announcements in July and September 2020, respectively.
Launched The Nixon Seminar on Conservative Realism and National Security, a monthly online gathering of senior statesmen and rising specialists in various aspects of great power competition and American national security, to discuss issues of current and continuing importance to the nation's interests abroad.
Enhanced its iconic rose gardens and renewed its partnership with the American Rose Society to keep the flowers looking beautiful.
Introduced "The President's Society," a new level of membership support open exclusively to Millennials.
The Richard Nixon Presidential Library and Museum is open every Wednesday through Sunday from 10:00 a.m. to 3:00 p.m.
The museum and federal spaces are open according to federal COVID-19 requirements, while requirements in the privately-managed Nixon Foundation spaces will continue to align with guidance from the State of California and the County of Orange.
Visitors are encouraged to purchase tickets online in advance of their visit by going to nixonfoundation.org.
Mission-based events, speakers' series programming and privately-contracted events at the Nixon Library are gradually resuming in accordance with guidelines issued by the State of California.