Cold War Close-up: Gorbachev Wrestling Jacket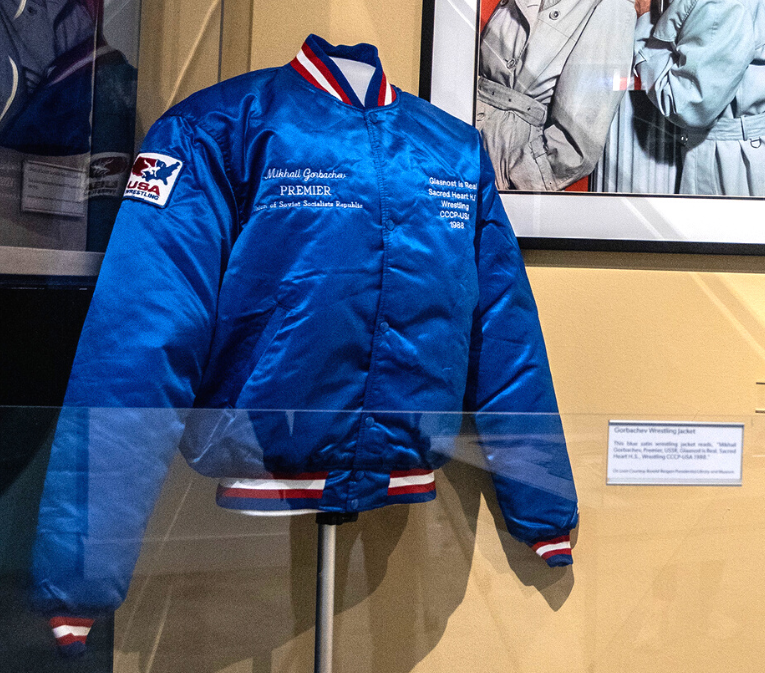 In the special exhibit Cold War: Soviets, Spies and Secrets visitors can view a jacket made for Soviet Premier Mikhail Gorbachev, who passed away this week at the age of 91 and is credited with helping bring an end to the Cold War. The blue satin wrestling jacket reads "Mikhail Gorbachev, Premier, USSR, Glasnost is Real, Sacred Heart H.S., Wrestling CCCP-USA 1988" and is on loan from the Ronald Reagan Presidential Library and Museum.
When Mikhail Gorbachev became the leader of the Soviet Union in 1985, he was just 54 years old. His election by the Soviet Politburo represented a generational change. His three immediate predecessors were 75, 69, and 73 when each died in office. He was the fourth Soviet leader in less than three years.
Gorbachev knew that the country he was appointed to lead faced significant economic and political problems.
The Soviet government's decades-long control of the entire economy, led to massive inefficiencies, a critical lack of innovation, and a reduced standard of living for most of the Soviet people.
Its restrictions on free speech, free elections, and a free press were increasingly untenable as the people of the Soviet Union were increasingly exposed through modern media to how people lived in free nations outside the Soviet orbit.
To address these problems and strengthen the Soviet Union, Gorbachev implemented two major reform measures designed to boost the economy and reduce restrictions of freedom of speech and the press.
Perestroika (restructuring) was intended to decentralize the Soviet economy, with the goal of achieving greater productivity, efficiency and innovation in the Soviet economy, while Glasnost (openness) was intended to reduce the absolute state control of people's freedom of speech and of the press.
Gorbachev never intended to end the Soviet Union. He sought to strengthen it. But as his reforms took hold, it became increasingly difficult to maintain any degree of control.
In 1989, as the countries behind the Iron Curtain began to move away from Soviet control and from communism, demand for increased freedom in the Soviet Union grew.
A growing sense of nationalism among the 15 Soviet republics – all of which only remained in the Soviet Union through force from Moscow – was also fracturing the "union" in the Soviet Union.
The combination of these two factors, coupled with the lack of progress in improving the standard of living of its average citizens, began to erode the Communist Party's control of the country.
In August 1991, hardline senior communist party officials who opposed Gorbachev's reforms, launched a coup attempt. Although the coup failed after just two days, Gorbachev's position was seriously weakened. Boris Yeltsin, who had been elected president of Russia, began to fill the power vacuum left by Gorbachev's diminished hold over the country.
On December 25, 1991, Gorbachev resigned and six days later, on December 31, 1991, exactly 69 years and one day after it was established, the Union of Soviet Socialist Republics was officially dissolved.
Cold War: Soviets, Spies and Secrets is included with admission to the Nixon Library. The Nixon Library is open seven days a week from 10 AM to 5 PM.
Nixon Library admission is $25 for adults, $21 for seniors, $19 for high school and college students, $19 for retired military, active military are free, children 5-11 for $15 and children 4 and under are free.
Nixon Foundation Members enjoy complimentary admission to the exhibit as part of their membership benefits.