On Wednesday evening the Nation's leading advocate for education freedom today, The Honorable Betsy DeVos, joined Jim Byron, President & CEO of the Richard Nixon Foundation, for an interview about her new book, Hostages No More: The Fight for Education and Freedom and the Future of the American Child.
The audience included local leaders and advocates in education including members of the Orange County Board of Education and school board candidates in both Orange and San Bernardino counties. This event came just weeks after the Nixon Foundation announced the launch of new initiatives in education focused on teaching civics, the Constitution and the history of American foreign policy.
The Former Secretary of Education paints a vision in her book of what learning could be like in 2030 versus what learning is like today. DeVos explains that for 175 years the way kids in the K-12 education system experience their learning has remained substantially unchanged from when it was founded. As a result, our nation is not in the top ten by any measure as compared to other countries in the world. The kids who are the most vulnerable, and in most cases for whom the most money is invested, are getting the worst results.
With more than 35 years of experience helping families access educational freedom, flexibility and resources for their children, DeVos believes the solution starts with ultimately empowering families with the resources that are already being spent on the child. She calls for changing the emphasis from systems being funded and supported to students being funded and supported.
While admitting that the issue of education can be divisive and controversial, DeVos claimed that it is hard for anyone to argue that we can not do better for our kids and our future. When asked about the quote Richard Nixon used on multiple occasions, "If you are controversial, that means you've stood for something," DeVos responded with this clear statement of what she stands for, "I am for students. And I am for individual students to be able to have an equal opportunity to unlock their talents, their skills and their gifts in ways that are going to work for them."
The conversation included the importance of Title IX, the legislation signed by President Nixon fifty years ago, and why it is important to defend its original goal of giving equal access to both genders to all aspects of education.
Secretary DeVos noted how little young people today know about our founding documents, civics and real history while emphasizing the importance of education because of the implications that this has on society as a whole.
As a self-declared optimist, Secretary DeVos shared examples of positive changes that are being made to disrupt the current K-12 educational model by putting the interests of students first.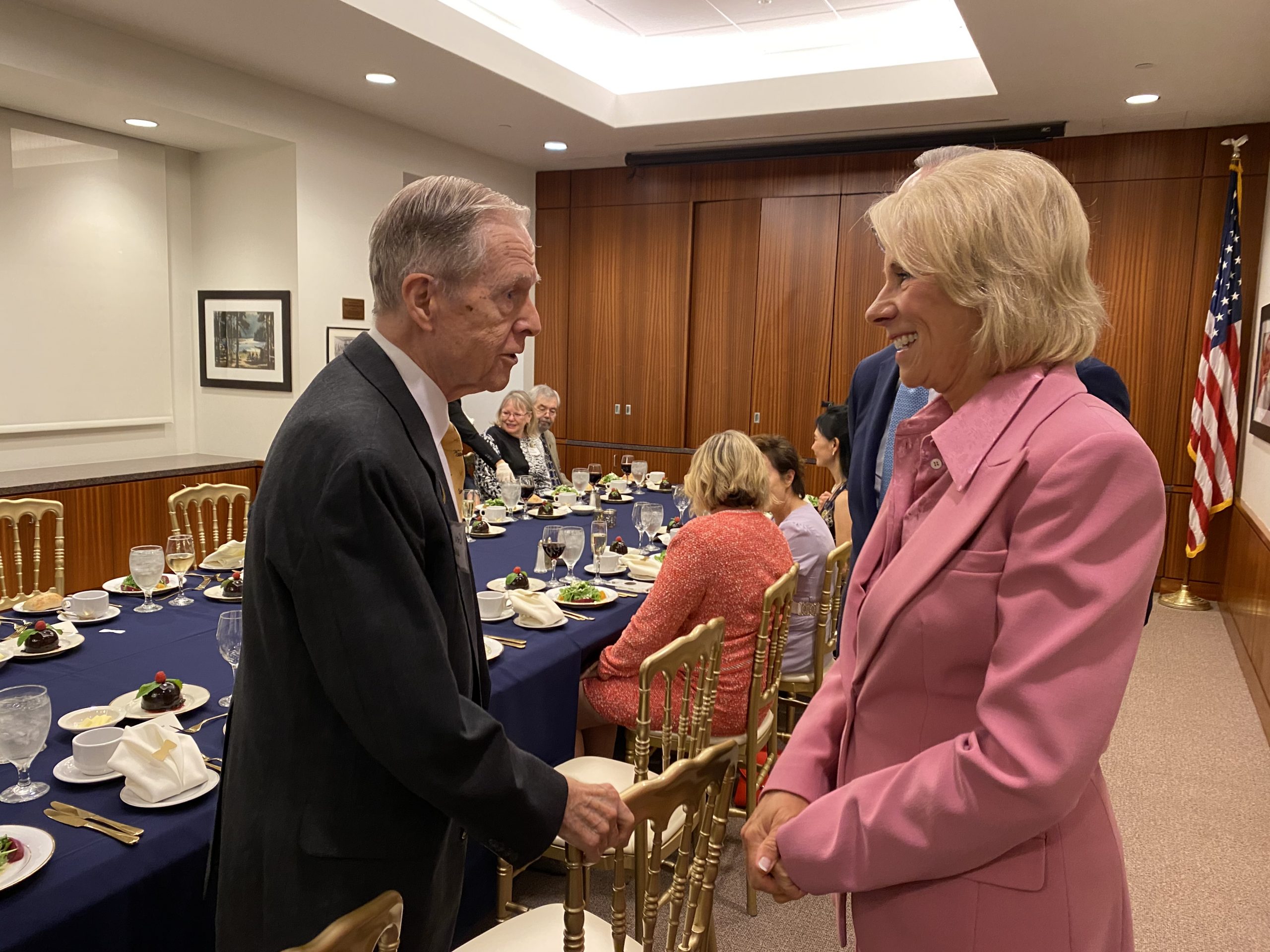 Nixon Foundation Board Member and Former Governor of California Pete Wilson speaks with Secretary Betsy DeVos.
Signed copies of Secretary DeVos's book are available in the Nixon Library's museum store.
View Secretary Betsy DeVos at the Nixon Library here: