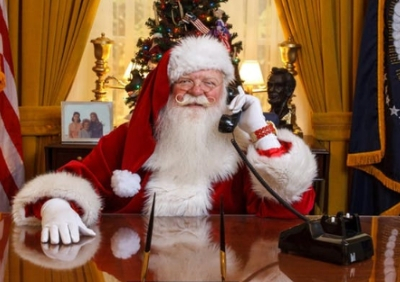 CANDLELIGHT EVENING TOUR – DECEMBER 19
In the spirit of White House Christmas traditions past and present, the Nixon Library is opening its doors after hours for special Candlelight Evenings for three nights this December — Wednesday 5, 12, and 19th.
Included with admission, guests will:
Explore the special Christmas display, All-Aboard America! featuring three spectacular layouts of model trains whistling over bridges, through snow-capped mountains and stopping in miniature towns and cities.
Live musical entertainment by the Long Beach City College Evening Wind Symphony in the magnificent White House East Room
Take photos with Santa Claus in President Nixon's Oval Office! (digital photo included for print)
Delight in live music featuring Christmas classic in the magnificent White House East Room
Take photographs with the beautiful Pat Nixon White House Gingerbread House — custom-baked to look like President Nixon's birthplace! Sponsored by the Cookie Element of Yorba Linda.
Write letters and sign holiday cards for military members serving overseas
Create festive Christmas ornaments to hang on your Christmas tree
Decorate sugar cookies and enjoy complimentary hot cocoa
PLUS: Discover the history of America's 37th President in the Nixon Library's award-winning presidential museum galleries.
These special events are a tribute to First Lady Pat Nixon, her legacy of opening the White House to the American people and her love of Christmas.
Please CLICK HERE to purchase admission tickets.