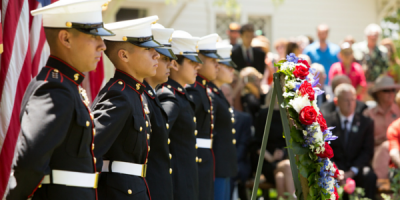 Commemorate Memorial Day
By Paying Tribute to POW heroes and their families
---
Monday, May 27
FREE EVENT ADMISSION
Honor the American military this memorial day by paying special tribute to POWs and their families.
10 AM: Wreath Laying at the Memorials of President and Mrs. Nixon
11 AM: Panel with POW Wives from the Vietnam War
Panelists include POW wives Jenny Connell Robertson and Patsy Crayton, as well as historian Heath Hardage Lee, author of The League of Wives, the first in-depth look at the political power of POW spouses, who ignored social protocol to help free their husbands.
Moderated by Audrey Coleman, curator of The League of Wives, a traveling exhibition sponsored by the Robert J. Dole Institute.
2 PM: Placentia Symphonic Band Concert
The highly popular and renowned Placentia Symphonic Band will perform its classic repertoire of All-American favorites in the East Room. This will be the 50th performance of the band at the Nixon Presidential Library & Museum. The Placentia Symphonic Band has a long relationship with the Nixon Foundation and regularly performs at the Richard Nixon Presidential Library & Museum on Memorial Day, Independence Day, and Veterans Day.
Paid admission is required to tour the museum galleries and Apollo 11 special exhibit.