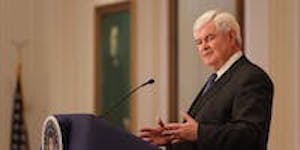 Newt Gingrich at the Nixon Library
Hear from one of the foremost economic, social, political, and security-focused conservative thinkers today
The former House Speaker and New York Times-bestselling author returns to the Nixon Library to discuss the current state of our political system and his gripping new novel Collusion – – his first book in a contemporary series filled with adventure, betrayal, and politics, that captures the tensions and divides of America and the world today.
Advanced Ticket Prices:
General Admission: $50
Nixon Foundation Members: $43
Event admission includes an autographed copy of the Collusion!
Advanced ticket sales ended on March 31st.
Purchase tickets HERE