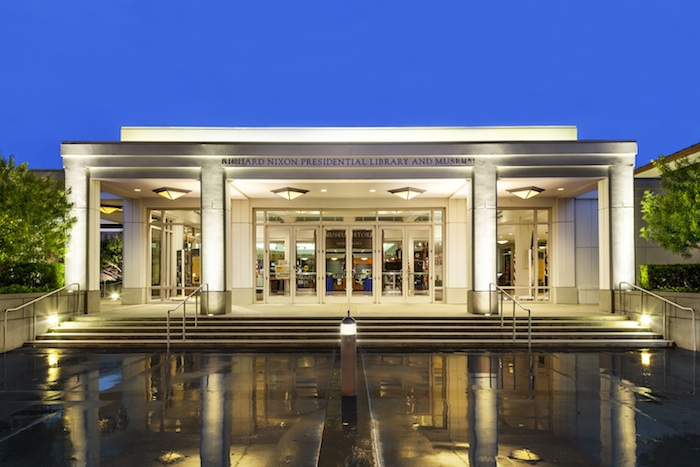 Opening of the New Nixon Library
11AM – OPENING CEREMONY
Join the Nixon family, friends, elected officials, former Nixon administration officials, and dozens of benefactors who made the New Nixon Library possible, and celebrate the Opening!
Dr. Henry Kissinger, California Governors Pete Wilson and Arnold Schwarzenegger, U.S. Archivist David Ferriero and President and Mrs. Nixon's grandchildren Christopher Cox and Melanie Eisenhower will officially open the New Richard Nixon Presidential Library and Museum at a free public ceremony on Oct. 14 beginning at 11:00 a.m.
Also on hand will be Ed Nixon, President Nixon's youngest brother; U.S. Rep. Ed Royce (R-Fullerton), chairman of the House Foreign Affairs Committee; Ron Walker, chairman of the Richard Nixon Foundation; and Fred Malek, chairman of the Nixon Centennial Legacy Campaign, that raised funds to create the new museum. The opening ceremony will include musical performances by the USC Trojan Marching Band, a Presentation of the Colors by the Los Angeles Air Force Base Honor Guard and a commemorative flyover by a squadron featuring a WWII C-53 Skytrooper plane that flew on D-Day.
The new museum will open immediately after the ceremony. Tours are self-guided.
Free admission all day.
Reservations to the ceremony are encouraged but not required. Seats will be offered to guests who arrive on a first-come-first-serve-basis; a reservation does not guarantee a seat.
6 PM – EVENING AT THE WHITE HOUSE CONCERT
While bands and performers will entertain throughout the day, take the evening with friends and family to enjoy a Nixon White House tradition with the sunset as your backdrop.