RN & MLK
An Online Exhibit
Explore the Exhibit
Click on the links below for quick navigation
Ghana, 1957
On March 6, 1957, Ghana, formerly known as the Gold Coast, became the first African nation to achieve independence.
Vice President and Mrs. Nixon had met Dr. and Mrs. King attending the events celebrating Ghana's independence.
The Vice President and the Pastor, and their wives, immediately established a warm and friendly relationship.
Over the course of a few days they had several conversations, and Vice President Nixon invited Dr. King to visit him in Washington.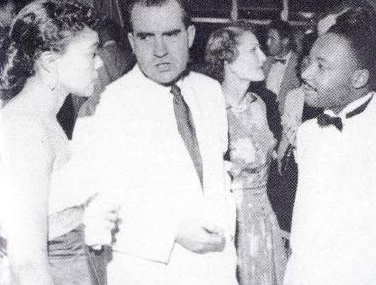 May 15, 1957

On May 15th, Dr. King wrote to the Vice President, taking him up on his suggestion that they meet in Washington, and proposing three possible dates.
May 28, 1957
Nixon chose June 13th, one of Dr. King's three suggested dates; on May 28th Dr. King wrote to confirm their meeting.
Vice President Nixon and Dr. King Meet in the Capitol
On June 13, 1957, Dr. King met for two hours with Vice President Nixon in his office in the U.S. Capitol.
Ralph Abernathy accompanied Dr. King, and Labor Secretary Jim Mitchell joined the meeting.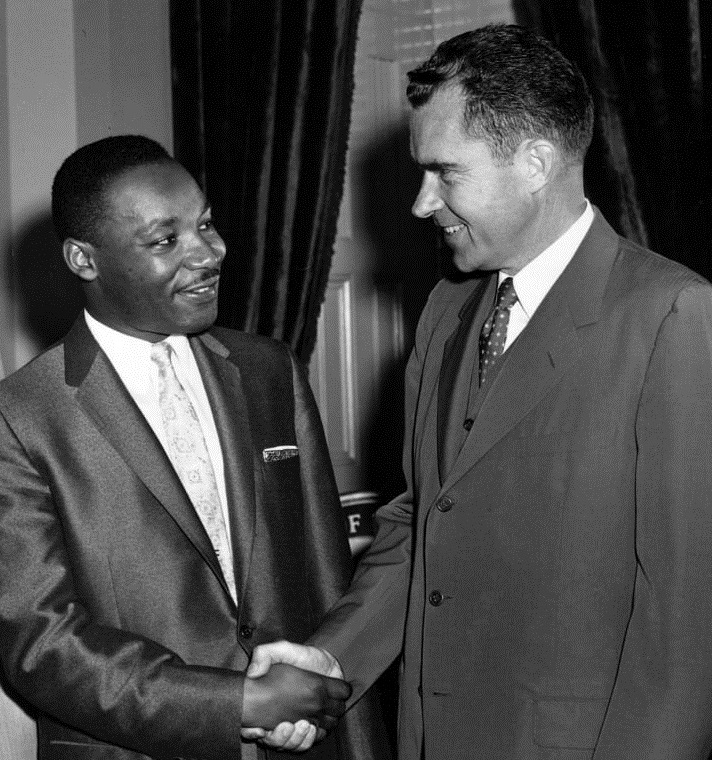 Nixon's Notes of MLK Meeting (5/13/57)
The meeting lasted well beyond the allotted time. Nixon, as was his custom, asked questions and listened.
He made several pages of notes reflecting King's conversation.
June 15, 1957
Two days after their meeting, Nixon wrote to King saying how much he enjoyed their conversation and enclosed copies of speeches he had made dealing with civil rights.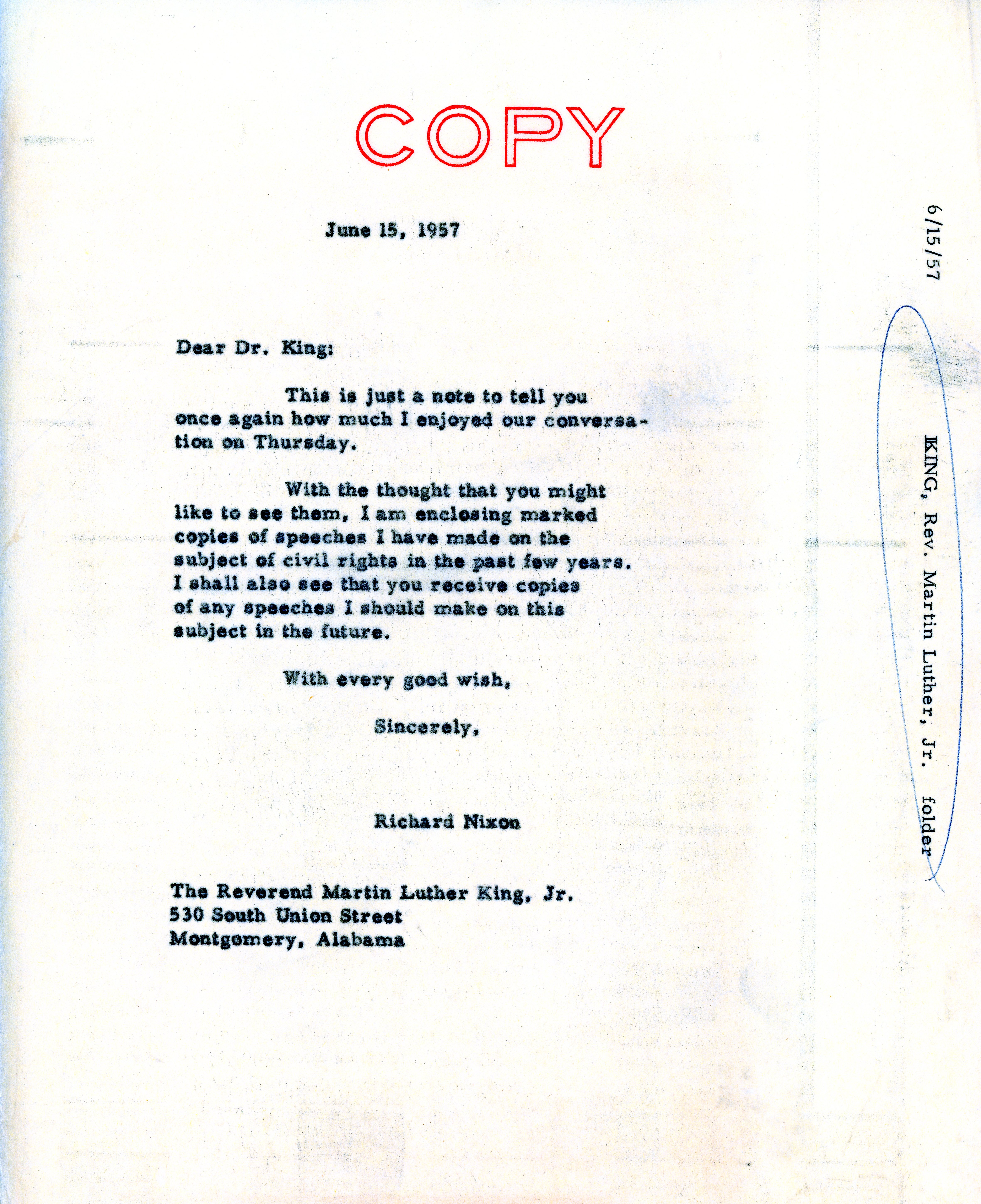 JET Magazine
At the end of June, Jet magazine, "The Weekly Negro News Magazine," featured an article "Exclusive: Nixon Tells King How He Plans To Help Negroes."
The article was the transcript of a conversation between Dr. King and a Jet reporter, in which King described in detail his meeting with Nixon on June 13th.
August 30, 1957
On August 30th, King wrote a two-page letter to Nixon. After explaining his silence since their June meeting (because of his busy schedule), he brought Nixon up to date on the civil rights situation as he saw it.
He described his conviction that the impact of the 1957 Civil Rights Act that Nixon had been instrumental in successfully steering through Congress, would depend "on the program of a sustained mass movement on the part of Negroes."
August 30, 1957
In the letter's last two paragraphs, King wrote positively about his impression of, and hopes for, the Vice President as a positive and proactive force for civil rights.
September 17, 1957
Nixon replied to King's August 30th letter on September 17th. He wrote that they both agreed the Civil Rights Act of 1957 "was not as strong as we would have liked." He added that they were also in agreement that the Act was "much better than no bill at all…"
Nixon appreciated King's "generous comments" regarding his role in the 1957 Civil Rights bill, and added, "My only regret is that I have been unable to do more than I have. Progress is understandably slow in this field, but at least we can be sure that we are moving steadily and surely ahead."
September 8, 1957
As the 1957 school year began, it was clear that Central High School in Little Rock, Arkansas, was going to be a flashpoint of school integration following the Supreme Court's 1954 Brown decision.
Just 10 days after his August 30th letter, Dr. King took advantage of his new relationship with the Vice President to send him a telegram asking him to urge President Eisenhower to have the Federal Government take "a strong positive stand" at Central High, lest the process of integration be set back fifty years.
On September 25th, Eisenhower sent federal troops to Central High. Dr. King commended the President for his positive and forthright stand.
September 22, 1958
A year would pass before Nixon wrote again to King. His letter of September 22, 1958, instead of being sent to the King residence in Montgomery, was sent to King's room at Harlem Hospital.
On September 20th, King was at Blumstein's department store in Harlem to sign copies of his book about the 1955-56 Montgomery Bus Boycott, Stride Toward Freedom. A mentally unstable woman stabbed him in the chest with a steel letter opener. The would-be assassin almost succeeded. Dr. King later quoted his doctor as saying that if he had sneezed before his chest could be opened and the wound treated, he would have drowned in his own blood.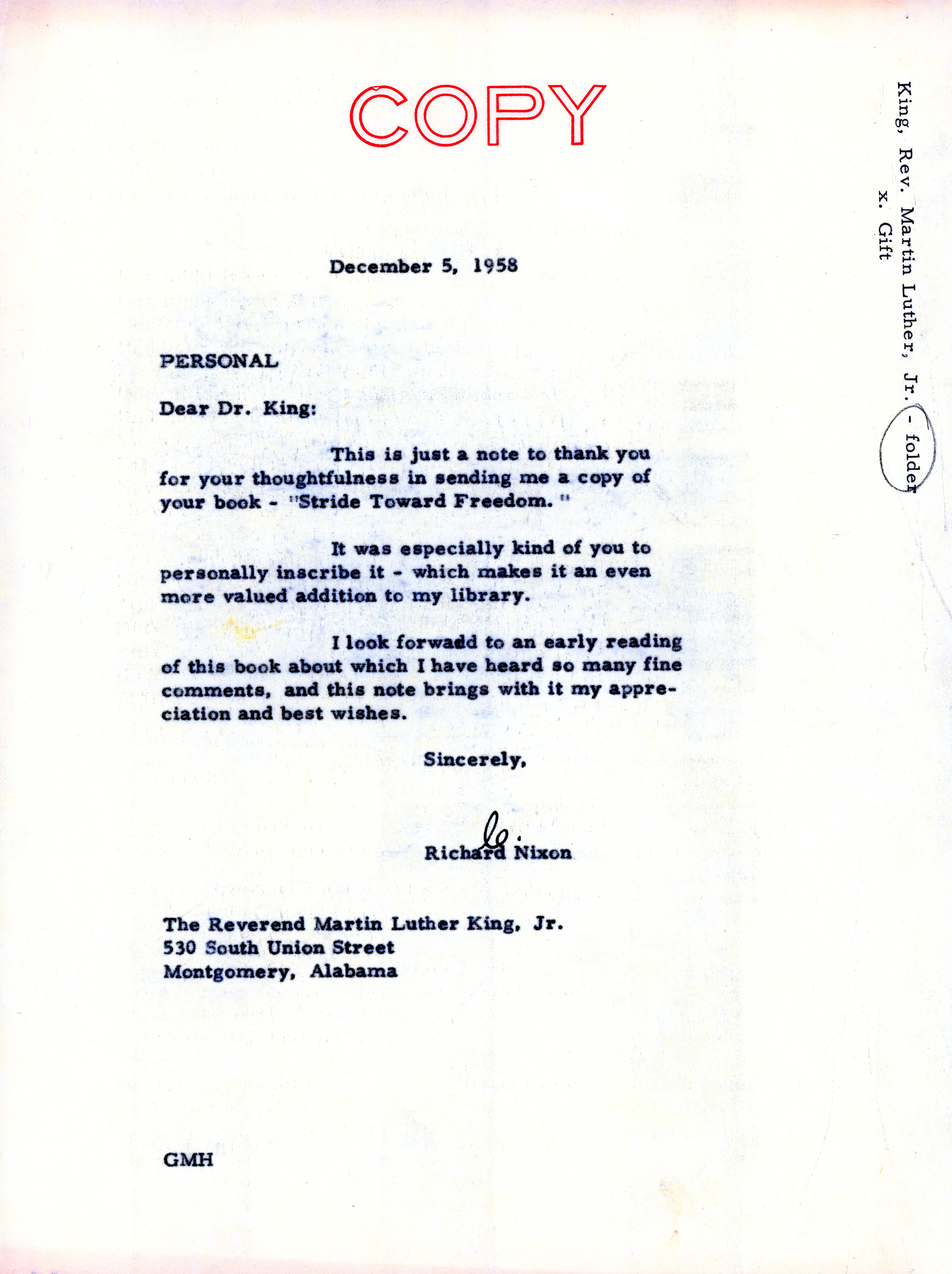 December 5, 1958
On December 5, 1958, Nixon wrote to King thanking him for a copy of Stride Toward Freedom, and noted that the personal inscription "makes it an even more valued addition to my library."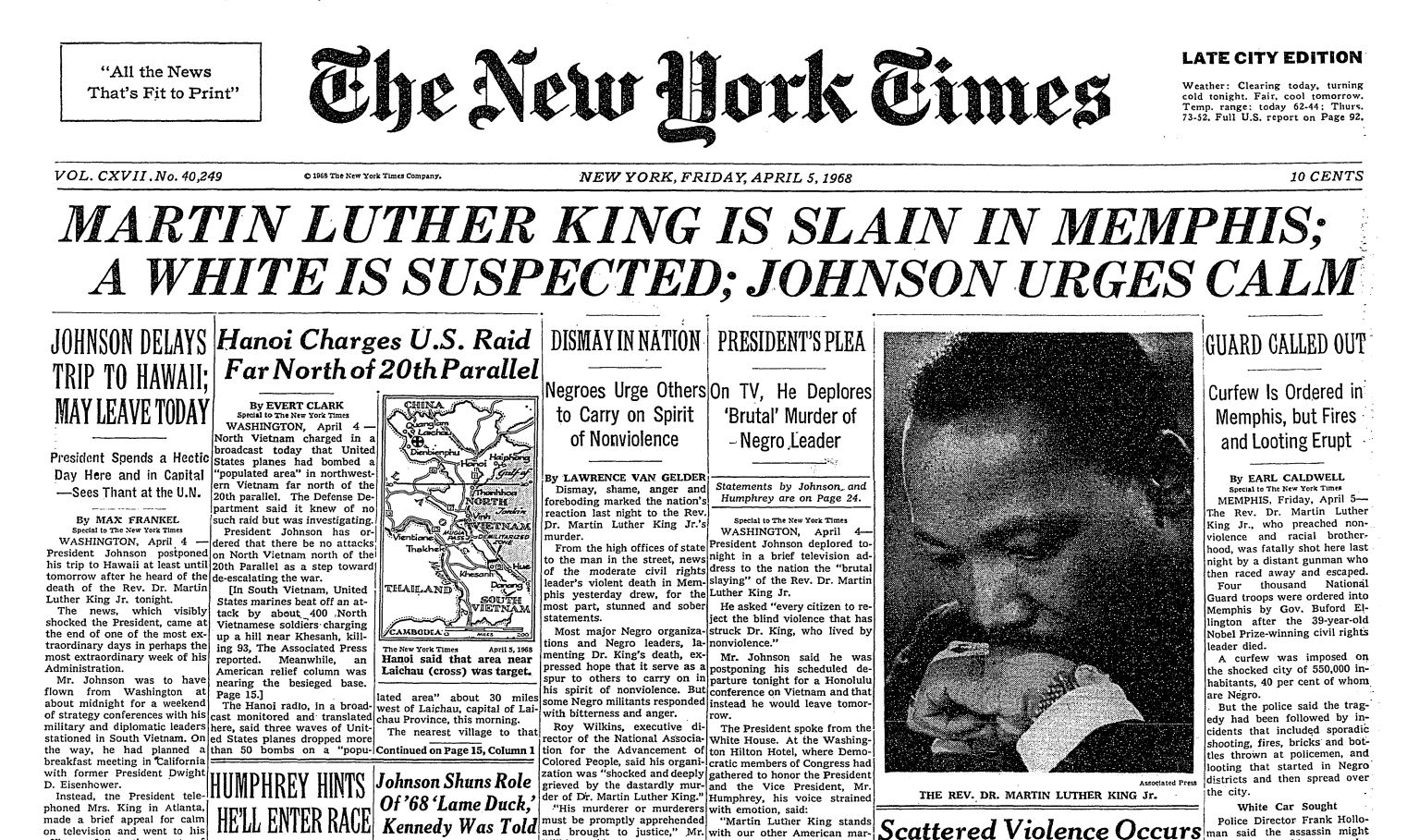 There was no communication between the former Vice President and Dr. King during Nixon's Wilderness Years (1960-1968).
In the Nixon archives, there is an internal rough draft for what might have been a personal message to Mrs. King.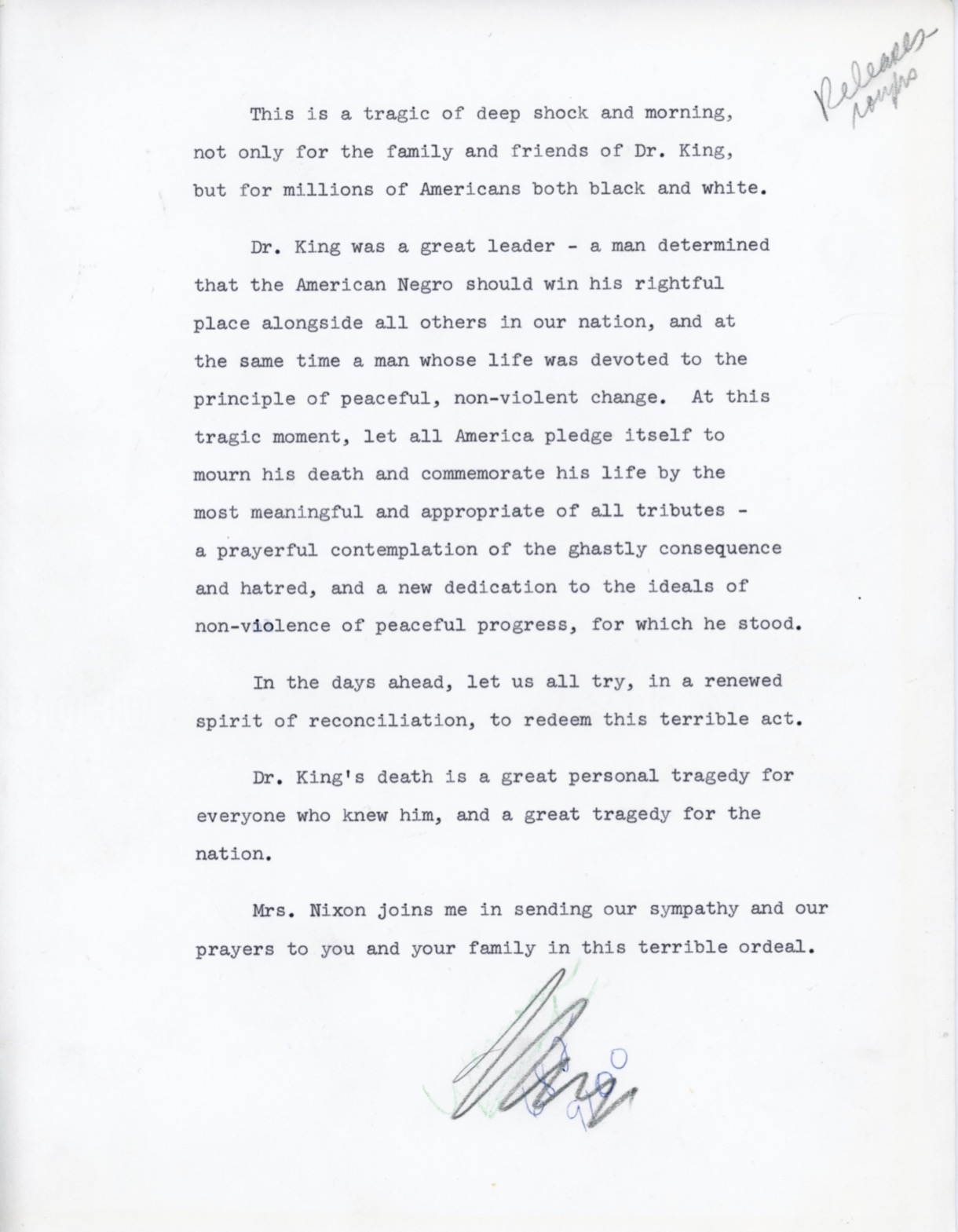 Nixon Visits Coretta Scott King
Nixon planned a visit to Atlanta to offer his condolences to the King family.
Dwight Chapin, a 27-year old personal aide who accompanied Nixon, describes Nixon's visit with Coretta Scott King.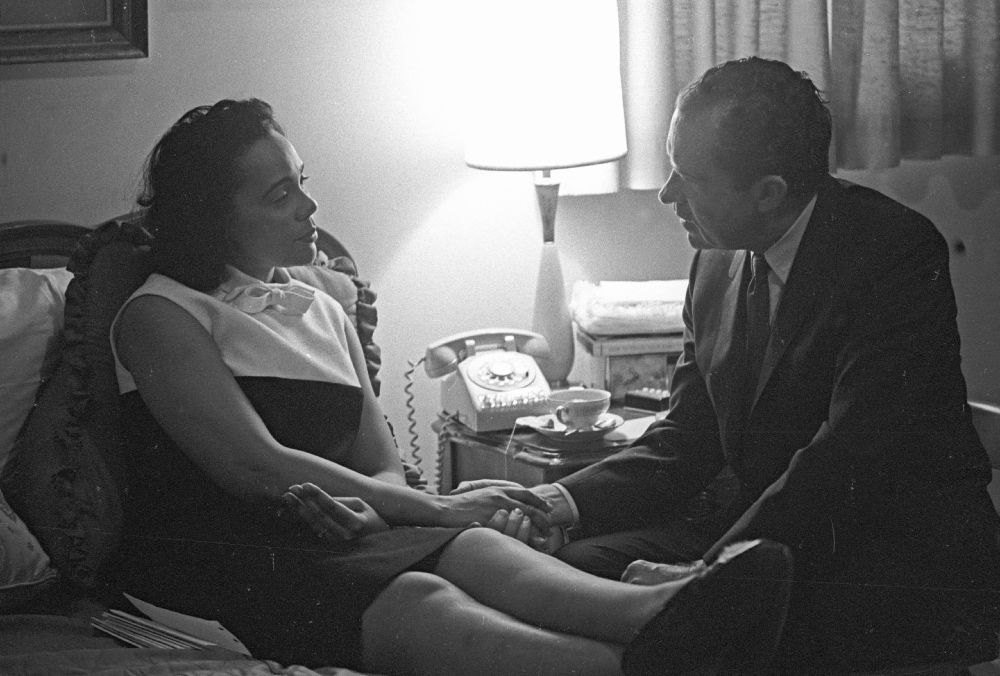 Following the visit to Coretta Scott King at Auburn Avenue, Nixon and Chapin went to the home of Martin Luther King Sr. and Alberta Williams King, the slain leader's parents.
Nixon knew "Daddy" King, the Pastor of the Ebenezer Baptist Church, well from his time as Vice President. Daddy King had originally supported Nixon in his 1960 presidential campaign against John F. Kennedy.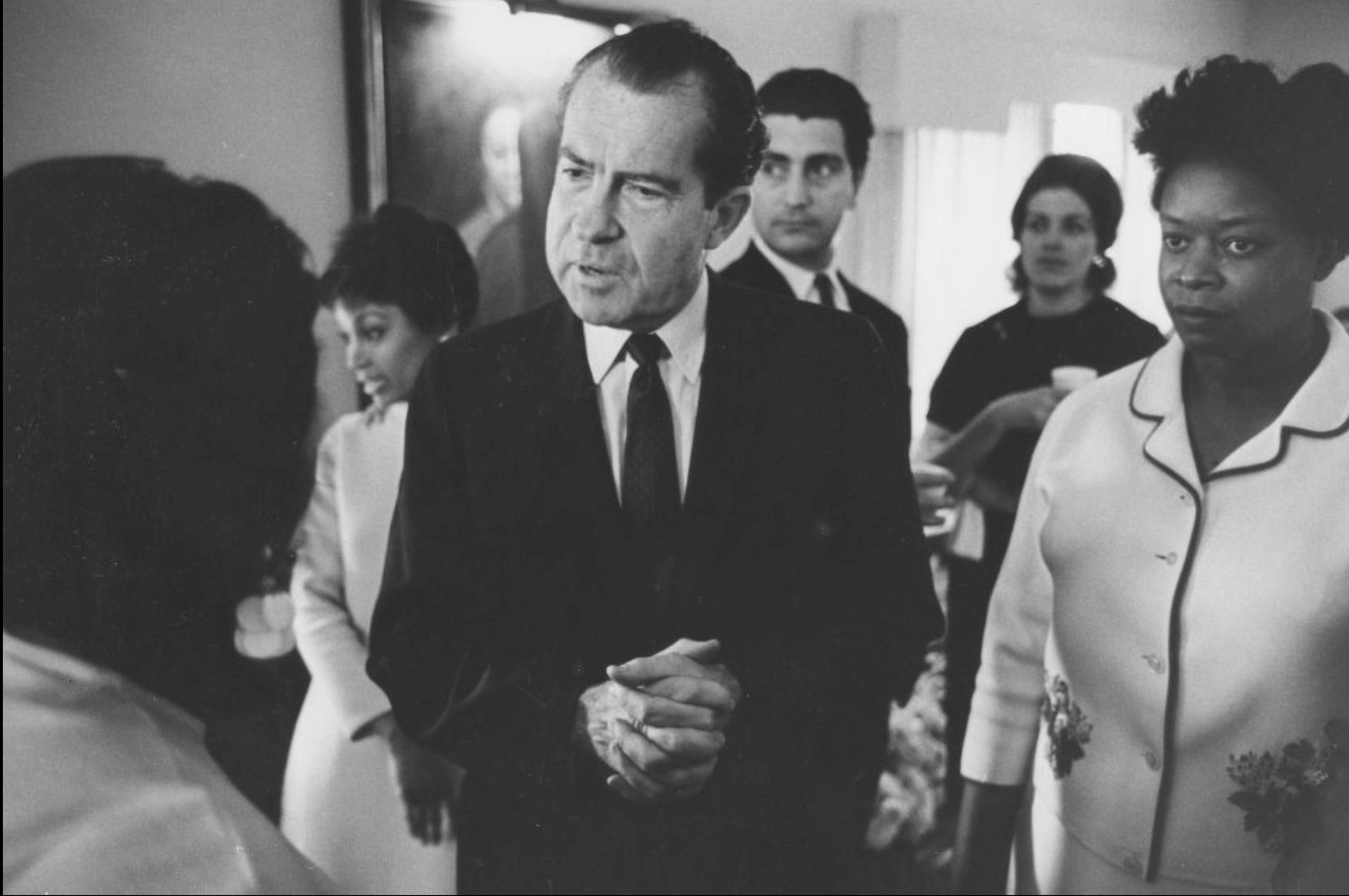 Dwight Chapin describes Nixon's visit to the home of Martin Luther King Sr. and Alberta Williams King
Nixon Attends the Funeral of Martin Luther King Jr.
Several days after visiting with Mrs. King, Richard Nixon returned to Atlanta to attend the funeral of Martin Luther King Jr. at the Ebenezer Baptist Church on April 9, 1968.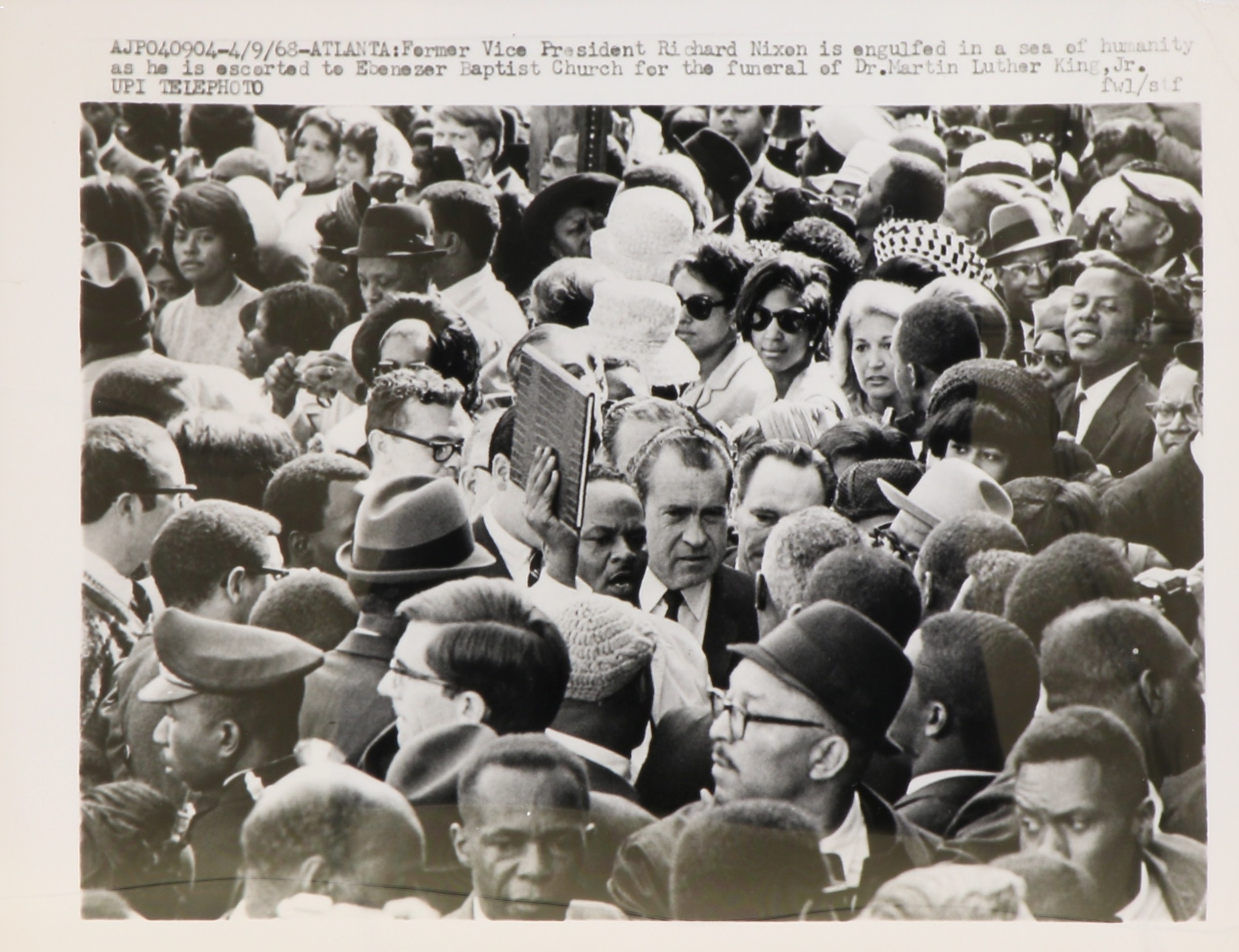 Dwight Chapin describes Nixon's arrival at the Ebenezer Baptist Church and the service there for Dr. King.
The service was opened by Rev. Ralph Abernathy. At Coretta Scott King's request, her late husband eulogized himself: a recording of his last sermon delivered at Ebenezer Baptist Church ("Drum Major," February 4, 1968) was played.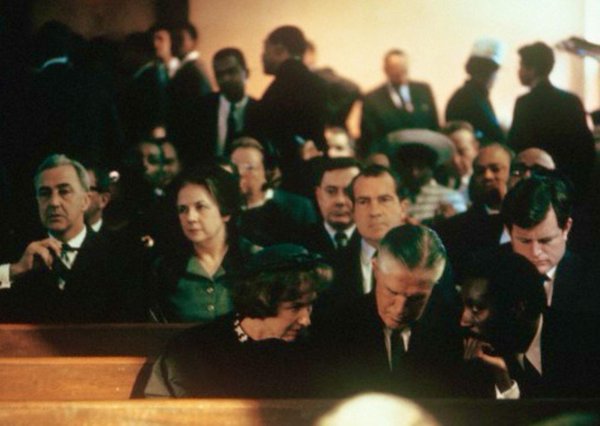 At the Ebenezer Baptist Church, Nixon was seated next to Senator Eugene and Abigail McCarthy.
Senator Edward Kennedy and Governor George and Lenore Romney also attended the service.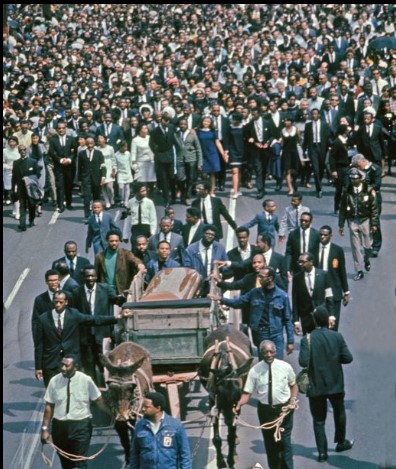 After the funeral service at Ebenezer Baptist Church, Nixon joined the marchers behind Dr. King's casket – on a plain wooden farm wagon pulled by two local mules – on a three mile procession through the streets of Atlanta, Georgia.
Nixon marched alongside basketball legend Wilt Chamberlain.