When Richard Nixon was sworn in as President of the United States In January 1969, the North Atlantic Treaty of 1949 was within months of potentially unraveling. The founding document of NATO permitted members to leave voluntarily after twenty years of membership.
No American President had made a substantive visit to Europe since President John F. Kennedy's visit in 1963. 
NIXON AND EUROPE, FEBRUARY 23 – MARCH 2, 1969
On January 20, 1969, Richard Nixon took the Presidential Oath of Office, becoming the 37th President of the United States of America. His Inaugural Address was witnessed by millions of Americans and his delivery of his first inaugural address emphasized the overall theme of peace, not just domestically, but globally, as well.
In his address, Nixon responded to the growing desire for unity both domestically as well as internationally. The response to President Nixon's Inaugural Address captured global news as many speculated to whom Nixon's address was truly intended, how the leaders of the world would respond, and what the newly inaugurated president planned to orchestrate first while in office. In an article from London's Daily Mail, it was noted, "This message is in tune with an America which is tired of promises unkept and programs unfulfilled….America, like Britain, has to solve her own problems before she can solve the world's. Mr. Nixon seems to appreciate this. He has made a good beginning." In an article by Pro-Christian Democratic Rheinische Post in West Germany, it was noted, "If Nixon visits Europe this year, he will find open doors in all capitals and a new political configuration between the U.S. and Europe. This chance must be utilized." Surely, a prophetic reaction of events to come in Nixon's first days in office.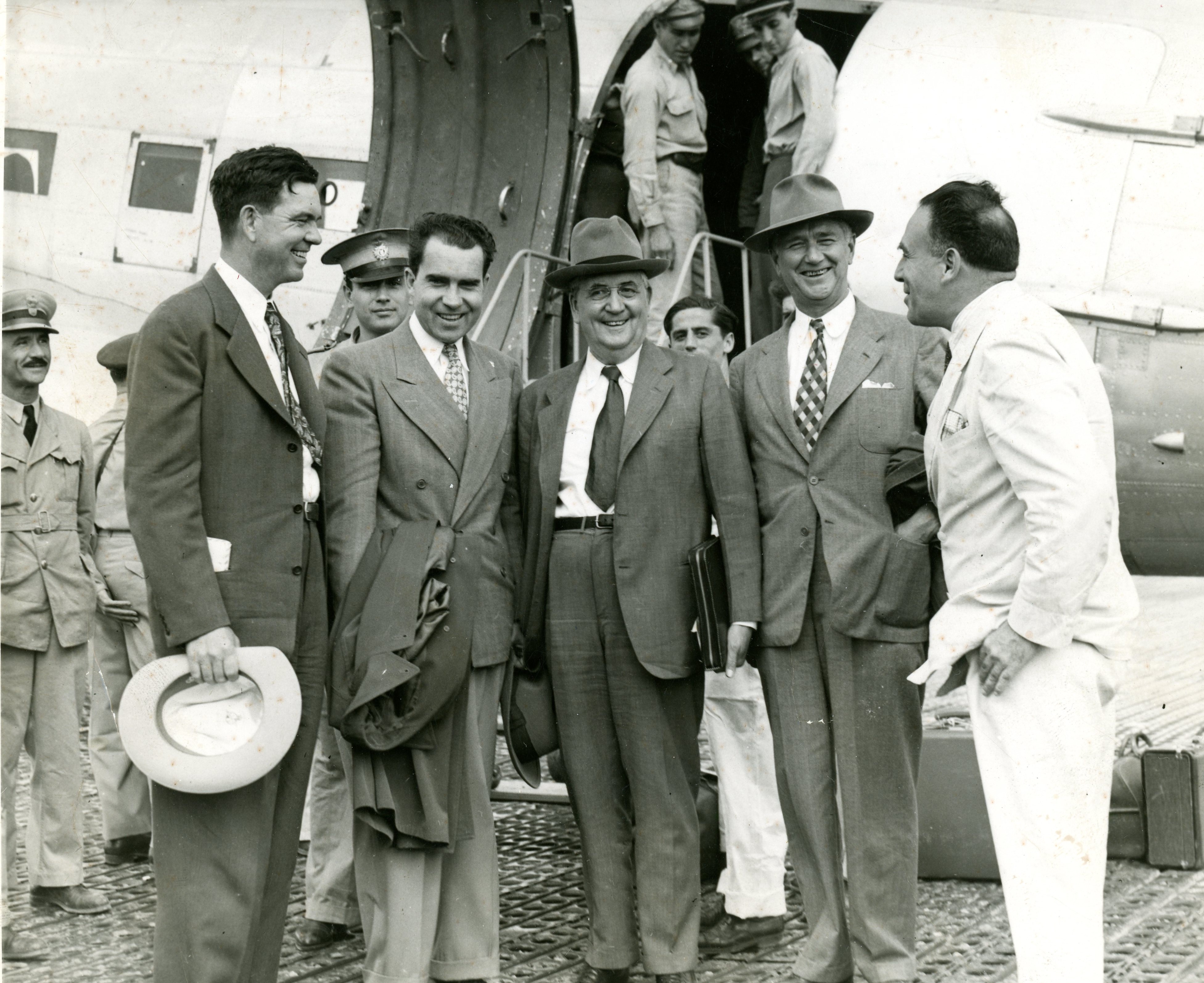 Richard Nixon's political career prior to his inauguration in 1969 began in 1946 when he became a freshman Congressman. In 1947, Nixon was selected to join the Herrter Committee with the mandate of observing and evaluating the devastation in Europe in the aftermath of the Second World War. The report by the Committee later became the basis of the Marshall Plan, thus providing aid to the devastated nations of Europe in order to assist in rebuilding their economies.
Nixon made many trips abroad throughout his political career as well as during his time outside of office from 1960-1967 – a time Nixon phrased as his "wilderness years." He maintained his friendships with foreign and domestic leaders throughout that time and remained up to date on the issues of the day – as a result he spent his time developing possible solutions to problems faced by world leaders. Nixon returned to the political arena on February 2, 1968 by announcing his candidacy for the Presidency.
The presidential race was tumultuous as the nation was riddled with fear, lawlessness, and protests over the war in Vietnam. As Nixon accepted the nomination as the Republican Candidate for President at the Republican National Convention on August 8, 1968, Nixon elaborated on these issues of the day and the realities the country faced both at home and abroad, but breathed a sign of hopefulness for the United States.
Nixon, with confidence and self-assuredness of his platform that would echo his mission, stated,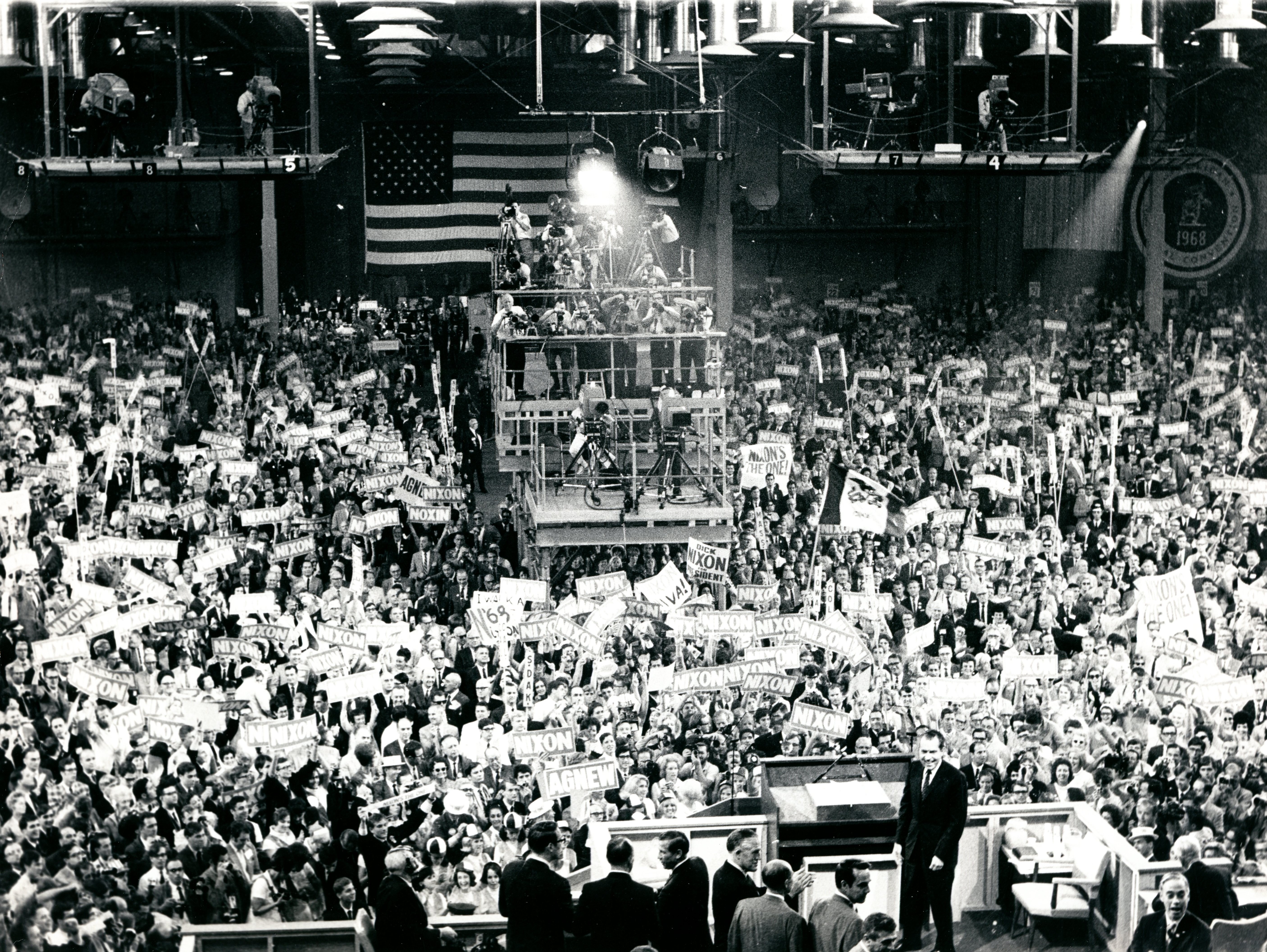 We are a strong nation. We are a populous nation. But there are two hundred million Americans and there are two billion people that live in the Free World. And I say the time has come for other nations in the Free World to bear their fair share of the burden of defending peace and freedom around this world. What I call for is not a new isolationism. It is a new internationalism in which America enlists its allies and its friends around the world in those struggles in which their interest is as great as ours. And now to the leaders of the Communist world, we say: After an era of confrontation, the time has come for an era of negotiation. Where the world's super powers are concerned, there is no acceptable alternative to peaceful negotiation. And as we seek peace through negotiation, let our goals be made clear: We do not seek domination over any other country…We believe deeply in our ideas, but we believe they should travel on their own power and not on the power of our arms.
In the midst of the nuclear arms race, Nixon was aware of the risks nuclear proliferation and the dangers of nuclear war between the United States versus the Soviet Union would bring to Europe caught in the crossfire. In 1969, the limitations of nuclear arms through deterrence and détente, therefore, took center stage in the international debate.
On February 6, 1969, during President Nixon's second Press Conference in the East Room of the White House, Nixon announced his plans to travel to Europe. During his eight-day trip, he planned to visit Brussels, London, Bonn, Berlin, Rome, and Paris. He stated,
The purpose of this trip is to underline my commitment to the closest relationship between our friends in Western Europe and the United States. I would like to lift these relationships from a concern for tactical problems of the day to a definition of our common purposes. The Alliance, held together in its first two decades by a common fear, needs now the sense of cohesiveness supplied by common purpose. I am eager for an early exchange of views on all the important issues that concern us. I favor intimate and frank consultations, and I am delighted that it has proved possible to make this journey so early in my administration. I am going to discuss, not to propose; for work, not for ceremony."
As the North Atlantic Treaty Organization (NATO) was meeting its twentieth year anniversary, the original intent of NATO was at risk of becoming obsolete in a changing world. The system in place did not adequately satisfy the needs of the day as NATO's original intent was to defend and assist in the event of an attack.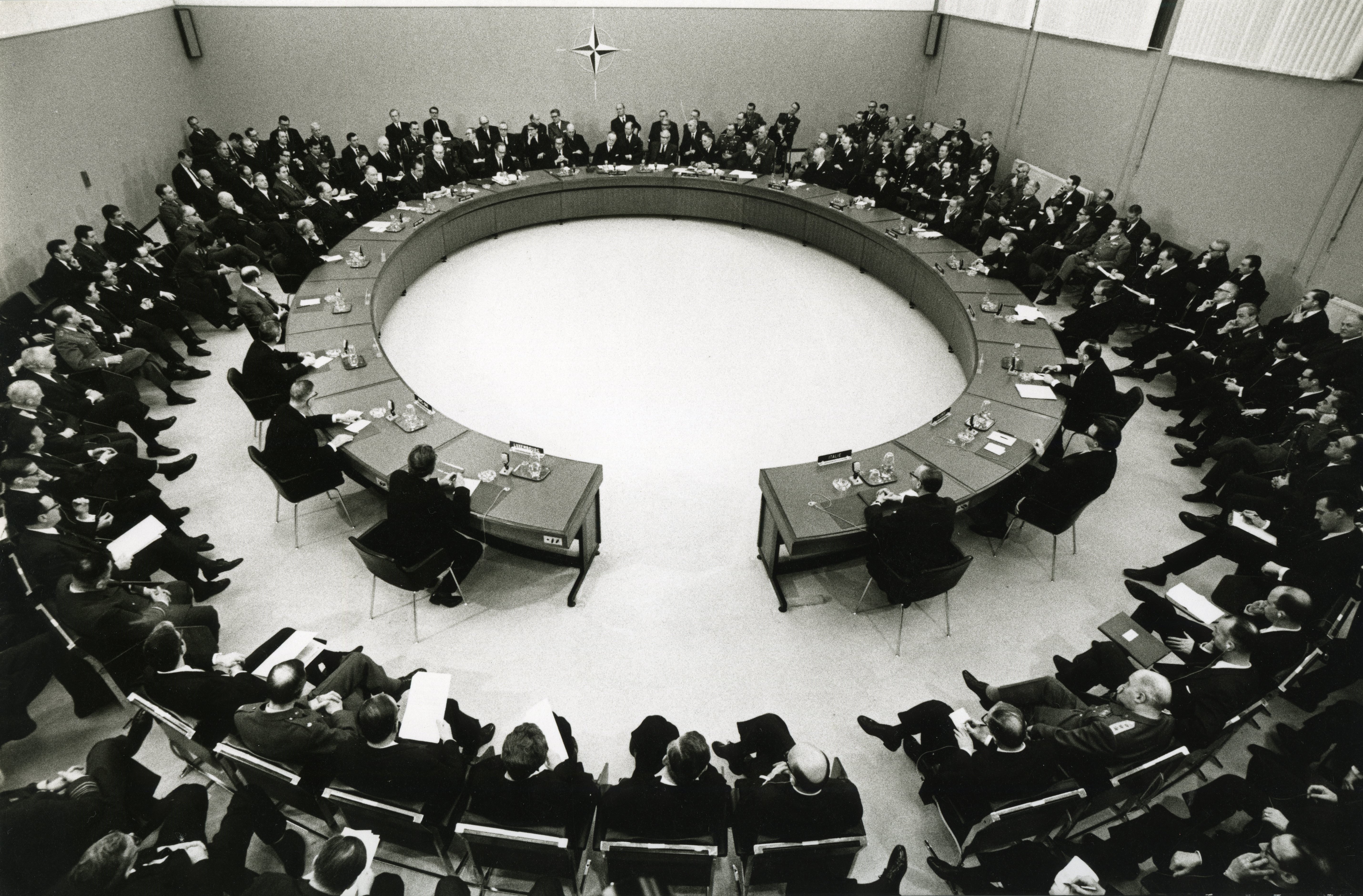 However, in 1969, the values, issues, ideas, and global fears did not complement the needs of the time. The strategic arms race and buildup of Atomic Ballistic Missiles (ABMs) had created an international polarization between the United States and the Soviet Union. As tensions between the United States and the Soviet Union grew – it was clear that a relaxation of tensions through deterrence and détente was necessary.
Realizing that NATO needed to have continued support of all nations within the alliance (its founding members: Belgium, Canada, Denmark, France, Iceland, Italy, Luxemburg, the Netherlands, Norway, Portugal, the United Kingdom, and the United States), the status of NATO, therefore, needed to evolve with a "common purpose" – unity, confidence, and mutual trust and understanding.
---
Nixon's Grand Strategy
On February 17, 1969, President Nixon was visited by Ambassador Anatoly Dobrynin, of the Soviet Union. As his first invitation to the White House, Nixon, as made clear in his memoirs, declaring there were "very fundamental differences that exist" between their two nations but stated that he "wanted to have completely open communication with him and the leaders of his government."
President Nixon and Ambassador Dobrynin were shortly joined by National Security Advisor, Henry Kissinger and Ambassador to the Soviet Union, Malcolm Toon. During the onset of their meeting, Dobrynin stated that the Soviet Union was strongly in favor of exploring "talks in the area of arms limitation." This interested Nixon greatly as it was the beginning conversation of détente, he deduced that the beginning of strategic arms limitations talks must also include the voices of nations in Europe – specifically the nations involved in NATO.
Nixon concluded the meeting with Ambassador Dobrynin and stated, "History makes it clear that wars result not so much from arms, or even from arms races, as they do from underlying political differences and political problems . . . So I think it is incumbent on us, when we begin strategic arms talks, to do what we can in a parallel way to defuse political situations like the Middle East and Vietnam and Berlin."
Scholars, academics, and historians from General Carl von Clausewitz to Pulitzer Prize winner, John Lewis Gaddis have contemplated the depth of war, the politics of engagement, and the art of grand strategy, developing succinct definitions for multifaceted political and sometimes violent situations.
Pulitzer Prize winner, John Lewis Gaddis defines grand strategy minimally as "the alignment of potentially unlimited aspirations with necessarily limited capabilities." Though abstract in his definition, Gaddis explained maximally in this way, "If you seek ends beyond your means, then sooner or later you'll have to scale back your ends to fit your means. Expanding means may attain more ends, but not all because ends can be infinite and means can never be. Whatever balance you strike, there'll be a link between what's real and what's imagined: between your current location and your intended destination."
What is achievable versus what is not achievable? Based on President Nixon's statement in his meeting with Ambassador Dobrynin, the process of beginning talks to limit strategic arms and relax global tensions must be done multilaterally in order to satisfy more than one singular global necessity. As France withdrew from NATO in 1966, ushering in instability between the nations of Europe, it was clear that a restructuring of NATO had to take place with a goal of a united Europe.
A "parallel way" as Nixon mentioned would be the basis of Nixon's Grand Strategy beginning in Europe and a restructuring of NATO on the eve of its 20th Anniversary.
Further Reading
---
State of Disunity and Discontent in Europe
Key Foreign leaders
Belgium
Baudouin, King of Belgium (1951-1993)

Bio: King Baudouin Belgium was born at the Chateau of Stuyvenberg, near Brussels on September 7, 1930. He was the second child of King Leopold III, King of the Belgians and Queen Astrid, born Princess of Sweden. Upon his father King Leopold III ascended to the Belgian throne on February 23, 1934, Prince Baudouin received the title "Duke of Brabant." On May 10, 1940, Belgium was invaded by German forces, bringing the sovereign nation of Belgium into the destructive folds of what was declared, The Second World War. Prince Baudouin, Princess Josephine-Charlotte and Prince Albert left Belgium and made their way to France, and later, Spain. Prince Baudouin and Prince Albert returned to Belgium in August of 1940. By 1944, the Germans deported the Belgian royal family to Hirschstein, Germany, and were later transported to Strobl, Austria. The royal family remained in Austria until May 7, 1945 where they were liberated by the American Army. In 1951, King Leopold III abdicated the Belgian throne. On July 17, 1951, Prince Baudouin took the constitutional oath and was announced the fifth King of the Belgians.                                                                                                                                                              King Baudouin's ascension to the throne began in the midst of domestic and international disunity. Domestically, the issue of the day was the tension between private and public school education. Internationally, Europe was struck by crisis which was threefold. First, Europeans were in a crisis of identity; would they return to pre-war ideals or would they be able to move forward. Second, Europe faced an economic crisis with the hope that the nations of Europe would unify in one European Common Market. Finally the third rested on deterrence or the relaxation of Cold War tensions between the United States and the Soviet Union. The 1950s began as a foundational decade toward consultation, positive relations, and trust between nations — the end goal of European unity.

Gaston Eyskens, Prime Minister of Belgium (1968-1973)

Bio: Gaston Eyskens was born on April 1, 1905 in Lier, Belgium. In 1934, Eyskens taught as a professor of economics at the Catholic University of Leuven. In 1939, Eyskens joined the Belgian Parliament – first as a member of the Catholic Party, then from 1945 to 1949, Eyskens served as Finance Minister. From 1949 to 1950, Eyskens served as premier of the Social Christian-Liberal coalition government.
England
Elizabeth II, Queen of the United Kingdom (1952- present)

Bio: Queen Elizabeth II of the United Kingdom and Commonwealth of England was born on April 21, 1926 in London, England to Prince Albert (Duke of York and later King George VI) and Elizabeth Bowes-Lyon. Though she would become Queen, ascending the throne following her father's death on February 6, 1952, Elizabeth's ascension to the throne was not guaranteed as her father was the second son of King George V. Following the death of George V, Elizabeth's uncle Edward ascended to the throne and was named King Edward VIII in 1936. Edward VIII's reign lasted less than a year as he was forced to abdicate in 1937. Elizabeth's father Prince Albert assumed the mantle of monarch and was crowned King George VI in 1937. Until her father was crowned King, Elizabeth and her younger sister Margaret lived free of the traditional restrictions and the pressures of the becoming the future monarch. King George VI reigned for 15 years until his death on February 6, 1952. Elizabeth's formal coronation was held on June 6, 1953 in Westminster Abbey, London, England where she was officially crowned Queen Elizabeth II.                                                                                                                                                                  As the longest serving monarch in British history serving as Queen to the 53 nations within the Commonwealth of England, Elizabeth II has met and outlived numerous government officials both from within her own government as well as foreign dignitaries, diplomats, and statesmen. As the United States and England sought to maintain good relations with one another post-WWII, 11 Presidents of the United States beginning with President Truman in 1951 have visited England to meet with Elizabeth II. On record, Elizabeth II met with Presidents: Harry Truman, Herbert Hoover, Dwight Eisenhower, John Kennedy, Richard Nixon, Gerald Ford, James Carter, Ronald Reagan, George H.W. Bush, William Clinton, George W. Bush, Barack Obama, and Donald Trump, respectively.

Harold Wilson, Prime Minister of the United Kingdom (1964-1970 & 1974-1976)

Bio:Harold Wilson was born on March 11, 1916 in Huddersfield, Yorkshire, Great Britain. Two years shy of the end of The Great War (World War I), Wilson's family was caught in the crossfires of the devastating war that traumatized the country and claimed the lives of a generation of young men sent to the battlefield. As the son of a chemist and a teacher, Wilson displayed a drive for higher education and while attending Oxford University, focused his studies on history, philosophy, political science, and economics. In 1945, Wilson entered parliament as a young MP for Ormskirk and later moved on to being a MP for Huyton. Recognizing Wilson's knowledge of economics, Prime Minister Clement Attlee appointed Wilson as President of the Board of Trade in 1947. That same year, at age 31, Wilson became the youngest member of the Cabinet in the 20th century.                                                                                                                                                                                          Wilson's political affiliation with the Labour Party and influence within the party allowed him to achieve several top positions. From 1955 to 1961, Wilson held the position of Shadow Chancellor; from 1961 to 1963, Wilson held the position of Shadow Foreign Secretary; and following the death of Hugh Gaitskell, leader of the Labour Party, Wilson was elected as the new leader of the party. Soon after his election as party leader, Wilson was elected Prime Minister.                                                                                                                                                                                    As the newly elected Prime Minister, Wilson sought to modernize – embracing the technological revolution rather than remain stagnant. In the spirit of modernization, Wilson sought a progressive approach to domestic policy supporting legislation rights on censorship, divorce, and abortion, etc. He also made influential moves as Prime Minister to end discrimination against women and ethnic minorities. In regard to foreign policy, Wilson's approach was to re-shape Britain's role as a global power – promoting and maintaining unity of the commonwealth, continuing good relations with the United States, and reevaluating Britain's overstretched military. Though Wilson's primary goals were to solidify his domestic policies and modernize, his goals to for Great Britain in joining the European community were a high priority as well – understanding the British economy could thrive while also building strong and peaceful relations with the nations of Europe. The urge to re-shape Britain's role in global affairs through restructured alliance with European nations in a time of peace was as important as and far more valuable than a defensive alliance in a time of war.

Sir Edward Heath, Conservative Party Leader

Bio: Sir Edward Heath grew up as a child of the lower middle-class. As Prime Minister in 1974, Heath stated, " I am not a product of privilege. I am a product of opportunity." Heath was born on July 9, 1916 in Broadstairs, Kent, UK. As a boy, Heath displayed a strong interest in politics and continued to cultivate his talent for political debate at Oxford University.  In 1941, during the height of the Second World War, Heath was commissioned as a Second Lieutenant in the Royal Artillery. By 1947, Heath achieved the rank of Lieutenant Colonel.                                                                                                                                                                                            From 1950 to 1965, Heath gradually rose through the ranks in Parliament, eventually becoming Government Chief Whip and later becoming leader of the Conservative party. During the General Election of 1965, Conservative party leader, Edward Heath, lost to his long-time rival Harold Wilson, leader of the Labour party. Though Heath lost the election, Heath continued to wield considerable power both foreign and domestically.                                                                                                                                                                                                                                              In 1969, President Richard Nixon visited London, England in his first trip abroad as President of the United States of America. President Nixon made a point to meet with key figures of the British government as well as leaders of the prominent political parties. Nixon met with Heath on February 25, 1969 and discussed a myriad of political topics concerning the United Kingdom, and the current attitudes of prominent figures in government regarding the state of global issues. According to President Richard Nixon's Daily Diary, Nixon and Heath's meeting lasted a total of 58 minutes. Such topics included, British plans for modernization, presence in the Middle East,  political unity, interest to have good relations with President Charles de Gaulle of France, and interest to enter the European Market.
France
Charles de Gaulle, President of France (1959-1969)

Bio:  Charles de Gaulle was born on November 22, 1890 in Lille, France. Born to a upper-middle class Roman Catholic family that was fervently patriotic, de Gaulle was raised on nationalistic values that heavily influenced his career as a writer, a military general, and eventually, a political "colossus" in Europe. Charles de Gaulle has been described as a man of intense self-assurance, courage under pressure, wit and intelligence, and overall, "a man of original mind."                                                                                                                                                                                              As a soldier in the Great War (World War I), de Gaulle fought at the Battle of Verdun – the longest and most violent of battles fought of its time. He was wounded in three separate incidences during the course of the war and was held captive as a prisoner of war for nearly three years. Following the wars conclusion, also known as the "inter-war years," de Gaulle returned to Saint-Cyr Military Academy and began his teaching career. At the Ecole Superieure de Guerre or War College, de Gaulle also taught a course on special training in strategy and tactics.                                                                                                                                                De Gaulle spent a majority of the inter-war years writing a collection of works centered on subjects such as, military power, professional armies, and the future of France as a nation. The collection includes La discorde chez l'ennemi, published in 1924; Le Fil de l'épée, published in 1932; Ver l'armee de metier, published in 1934; and La France et son armée, published in 1938.                                                                                                                                                                                                          At the onset of the Second World War, de Gaulle set a course that transitioned his position from a strictly military position to that of a statesman. As a witness to his own country's invasion, de Gaulle sought the assistance of Great Britain as he orchestrated and organized the collection of Free French Forces. With his shadow government in operation, de Gaulle returned to Paris in 1944 where he headed two successive provisional governments until 1946 following his resignation.                                                                                                                                                                De Gaulle returned to writing following his resignation from political life. Retired to his home in Colombey-les-deux-Eglises, de Gaulle wrote a several volume memoir of his experiences from 1940 to 1946. His multi-volume memoir includes: L'Appel, 1940–1942 (1954; The Call to Honour, 1940–1942), L'Unité, 1942–1944 (1956; Unity, 1942–1944), and Le Salut, 1944–1946 (1959; Salvation, 1944–1946). De Gaulle returned to public life in 1958 creating controversy among members of Parliament. He assumed the position of Prime Minister and by late December of 1958, de Gaulle was elected President of France.

Maurice Couve de Murville, Prime Minister of France (1968-1969)

Bio: Maurice Couve de Murville was born January 24, 1907 in Reims, France. Born to a prestigious family, Couve de Murville was encouraged to pursue political studies. As a result, Couve de Murville studied law, literature, and political science. As a diplomat, he steadily rose through the ranks of the unstable French government from 1930 to 1986. Throughout his political career, Couve de Murville held the positions of Minister of Foreign Affairs from 1958 to 1968; Minister of Economy and Finance from May 1968 to July 1968; Prime Minister of France from 1968 to 1969; Chairman of the Foreign Affairs Committee of the National Assembly from 1973 to 1981; and Senator of Paris from  1986 to 1995.
West Germany
Heinrich Lübke, Federal President of West Germany (1959-1969)

Bio: Heinrich Lübke was President of West Germany Federal Republic from 1959 to 1969. Lübke was born on October 14, 1894 in Enkhausen, Germany. At 20 years old, Lübke served as a soldier for the German army and was thrust into the violence of the Great War (1914-1918). After surviving the war and returning home, Lübke saw the devastation the war had caused agriculturally and later formed the German Farmers Federation and served as its leader from 1926 to 1933. With the political rise of Adolf Hitler and National Socialism in Germany sparking World War II, Lübke left political life and remained inactive until the war's conclusion.                                                                                                                                                                            During post-World War II reconstruction, Lübke returned to political life and helped to organize the Christian Democratic Union in Westphalia. From 1947 to 1952, Lübke was a North Rhine- Westphalia minister of Food, Agriculture, and Forestry. Following his entrance in the Federal Bundestag (lower house of parliament) in 1949, Lübke continued his political career. In 1953, he entered President Konrad Adenauer's Cabinet as Federal Minister of Food, Agriculture, and Forestry and used his expertise to modernize West Germany's agriculture.                                                                                                                                                                                            In 1959, Konrad Adenauer decided he would not run for re-election. The Christian Democratic Union, thus selected Lübke to enter the election. In July 1959, Lübke was elected President and served until his resignation in early 1969.

Kurt Georg Kiesinger, Federal Chancellor of West Germany (1966-1969)

Bio: Kurt Georg Kiesinger was born on April 6, 1904 in Ebingen, Germany. His education stemmed from Berlin and Tübingen focusing primarily on the study of law. From there, her began his political career as a conservative politician. At the time of Adolf Hitler and the Nazi Regime's rise to power, Kiesinger assimilated into the Nazi Party however, he was an inactive member. During the final days of World War II and the defeat of the Nazi Regime, Kiesinger was arrested by the Allied forces but was later released by the "Allied and German denazification courts."                                                                                                                                                    In 1949, Kiesinger returned to political life and joined the Christian Democratic Union under Konrad Adenauer. Kiesinger became a member of the Bundestag and remained there from 1949 to 1958.  After a steady rise in the Bundestag a chairman of the Foreign Policy Committee and was heavily influenced by the policies of Konrad Adenauer. In late 1966, Kiesinger became Chancellor of West Germany and served for three years before resigning on October 20, 1969. Willy Brandt of the Social Democratic Party replaced Kiesinger as chancellor.

Willy Brandt, Federal Chancellor of West Germany (1969-1974)

Bio: Willy Brandt was born in Lübeck, Germany on December 18, 1913. Brandt's education was based in Germany however, once the Nazi Regime came to power in 1933, Brandt's Social Democratic background and constant run-ins with the Gestapo forced him to abandon his university studies and flee to Norway and later, Sweden.                                                                                                                                                                                                                                                                        In 1949, Brandt returned to political life in West Germany becoming a member of parliament.  From 1957 to 1966, Brandt was elected and served as mayor of West Berlin. In 1969, Brandt was selected to head the race for Chancellor against then seated Chancellor, Kurt Georg Kiesinger. Brandt won the election and as the newly elected Chancellor of West Germany, decided to focus the majority of his government on opening relations with East Germany.
Italy
Giuseppe Saragat, President of Italy (1964-1971)

Bio: Giuseppe Saragat was a political statesman and founder of the Socialist Party of Italian Workers and served as the President of Italy from 1964 to 1971.

Mariano Rumor, President of the Council of Ministers of Italy (1968-1970)
Vatican City
Pope Paul VI, Sovereign of Vatican City (1963-1978)
Itinerary
Objectives of the Trip
Highlights of Discussions
Memcons
Charles de Gaulle (France)
President Nixon's Yellow Pad Notes
Speeches and Remarks
Announcement of Trip

Belgium

England

Germany

Italy

France

Back to US
Impact of Trip
Foreign media

US Domestic media
Haldeman Diaries
Photo Gallery
Belgium
England
Federal Republic of West Germany
Italy
France
NATO 20th Anniversary