Unguided Missal? Mass composer Leonard Bernstein in 1971.
Last week on The New Yorker's website, music critic Alex Ross wrote three articles based on newly released Freedom of Information Act-obtained government documents regarding inquiries into composer-conductor-polymath Leonard Bernstein's politics. They include an 800-page FBI file, memos from the Nixon White House Special Investigation Unit (aka Plumbers), and several taped conversations between RN and Chief of Staff Bob Haldeman regarding the impending premiere of Bernstein's Mass at the opening of the Kennedy Center in September 1971.
Alex Ross is to music what Pauline Kael was to movies. Both New Yorker critics share a commuunicable enthusiasm for their subject, an unintimidating expertise, and a ravishing prose style. In his New Yorker columns, on his blog, and in The Rest Is Noise, his recent best selling history of modern music, Mr. Ross renders the uncompromisingly unlistenable relentlessly readable.
And the Bernstein material he has uncovered is fascinating enough in itself.
The inquiries into the young conductor's politics began with the Truman White House's request to the FBI for an ideological vetting:
Although Hoover's operatives began tracking Bernstein's left-wing activities as early as the mid-nineteen-forties, the first serious inquiry came in March, 1949, when David Niles, President Truman's administrative assistant, asked the Bureau to look into the young musician's background. Niles wanted the information because Truman and Chaim Weizmann, the first President of Israel, were scheduled to attend an event at which Bernstein was slated to perform. A memo from D. M. Ladd to Hoover states that Bernstein was "connected, affiliated, or in some manner associated" with various organizations described as Communist fronts…
Director Hoover found the file's contents insufficient to merit his endorsement ("This phraseology means nothing + most certainly I can't send to W. H. [the White House] such ambiguous + sweeping statements."), so Mr. Niles was back at square one.  In the event, Bernstein conducted and Truman sent his regrets.
In 1951, Bernstein's name turned up on the Prominent Individuals Section of the Security Index — apparently a list of people who would be rounded up in the event of war with the USSR. In 1953, in order for the State Department to renew his passport, Bernstein had to submit an 11-page affidavit swearing that he had never been a member of the Communist Party or knowingly engaged in any communist-friendly activities.
From the Ross Bernstein documents: Leonard Bernstein's Truman era Security Index Card.
A thorough FBI investigation, in 1954-55, yielded no hard evidence to contradict Bernstein's affidavit—only "hearsay," according to a memo dated August, 1955. Yet the FBI continued to collect accusations and insinuations. In 1958, one informant stated: "I know that Bernstein is a card-carrying Communist but I have no proof of it but I can tell by the way he talks."
The thin record —ranging from soulless bureaucratese to squirrely handwritten denunciations— was typical of the times; today it makes dispiriting, albeit fascinating, reading. Looking back at his long life, nineteen years after the Maestro's death, it's easy to see that the prodigiously talented Bernstein, when it came to politics, was an enthusiastic idealist; and, for all his great sophistication, an idealistic naïf.
After flying under the FBI's radar for several years, Bernstein re-emerged in 1968 —with LBJ now in the White House— as a result of his ardent flirtation with the Black Panthers.
Although at first only those on the FBI's need-to-know distribution list were kept abreast of the Bernsteins' Panthermania, before long —on 8 June 1970 to be exact— the world would read about it in Tom Wolfe's devastating New York Magazine piece "Radical Chic: That Party at Lenny's."  Thanks to Wolfe's kandy-kolored prose, the Bernsteins' unironic earnestness was soon common knowledge and the subject of national mockery.
The Kennedy Center: The Wall Street Journal's review of its 1971 opening said: "Unfortunately, a perfect opening may be one of the few things the Kennedy Center will have going for it.  Its monumental building which has been described by one well-known critic as "gemutlich Speer," is, not to put too fine a point on it, awesome but cold.  It is in the style of the Soviet palaces of science and culture, and the dizzying halls of states and nations convey a distinct feeling of the Moscow underground."
After the assassination of President Kennedy in November 1963, Jacqueline Kennedy decided that the only monument in Washington to her late husband's memory would be the cultural center —the John F. Kennedy Memorial Center for the Performing Arts— to be built on the banks of the Potomac.
She commissioned Bernstein —a longtime Kennedy friend and unquestionably the nation's preeminent conductor and composer— to write a major original work, to be paid for by the late President's family, for the opening of the Center.   His initial idea was to compose a traditional Requiem mass in the tradition of Mozart, Verdi, and Faure.
But, being Bernstein, he soon fastened on a less conventional approach. The result, very accurately titled Mass: A Theatre Piece for Singers, Players, and Dancers, was a hybrid of the concert hall and the Broadway stage, with a thick gloss of '60s Greening of America schmalz.
As the Alex Ross New Yorker articles show, there was some concern in the Nixon White House about the advisability of RN's attending the Kennedy Center's opening.
The press and TV, not surprisingly, were obsessed with the long-anticipated event.   Although Mrs. Kennedy had become Mrs. Onassis in the meantime, this would represent the refurling of Camelot's flag in the heart of Nixonian Washington.  There was serious speculation devoted to whether Mrs. Onassis and/or President Nixon would attend; and, if they both did, about how that would be choreographed. There was also considerable grousing in the predictable circles that RN, by attending, would be intruding where he certainly wasn't wanted and arguably didn't belong.
Further, Bernstein and "sources close to Mass" had been hinting and leaking stories about the work in progress (which continued to be in progress right up to the premiere) that the event would be as much political as artistic.  There was speculation that the composer would use this Mass —with its likely captive audience of national leaders— as his means of speaking antiwar truth to power.
"Nixon + Jackie and Joe Blow":  Bernstein made notes about Mass at the McDowell Colony in 1970.  Regarding The Communion (the Kiss of Peace) he wrote: "Something should happen that turns the militancy to love.  For me the Communion and the Kiss of Peace are not two things, but one: the kiss is the communion and should pass through the whole company in a ritual way, + be somehow transmitted on through the house, to Nixon + Jackie and Joe Blow — What music?  Quiet chorale, or big gay sound?"
The upshot was an FBI memo —dated 16 August 1971, roughly three weeks before opening night— on the subject: "PROPOSED PLANS OF ANTIWAR ELEMENTS TO EMBARRASS THE UNITED STATES GOVERNMENT."  The memo's purpose was set out in the first paragraph:
To advise that information regarding a previously reported plot by Leonard Bernstein, conductor and composer, to embarrass the President and other Government official through an antiwar and anti-Government musical composition to be played at the dedication of the Kennedy Center for the Performing Arts has been reported by the press.
The report in question was from Human Events that "rumors are sweeping Washington" that Bernstein would embarrass RN with an anti-administration bombshell.  It was noted that he had met in jail with the anti-war Jesuit Daniel Berrigan, who was serving a three year sentence for destroying draft files, and who was rumored to be a collaborator on the Mass's Latin libretto.
As Bernstein's working notes show, he had, indeed, received advice from Fr. Berrigan, and had originally considered writing "4 Lullabies for Martyrs" (JFK, RFK, Martin Luther King Jr., and Malcolm X).  The "Epistle" —the produced Mass's most explicitly political section— intersperses quotations from Second Timothy with letters from an imprisoned draft resister.
So the fact that this highly public and potentially politically sensitive event was the subject of discussion among RN and his staff isn't surprising.
Robert Mardian, then head of the DOJ's Internal Security Division, wrote a memo summarizing the situation as the premiere approached.  He paid particular attention to the Bernstein-Berrigan visit at the Danbury Correctional Institution on 25 May 1971.
One could surmise that this visit by Bernstein was in connection with his "Mass," particularly when considered in the light of information circulation within the pro-Berrigan camp to the effect that Bernstein has requested Father Berrigan to compose words for the "Mass" in Latin and it would follow an antiwar theme.  If this is true, consider the implications and the publicity which would accrue to the antiwar movement if this "Mass" were to be politely applauded by high ranking Government officials who undoubtedly will attend the dedication ceremonies at the Kennedy Center and who probably are not conversant in Latin.
Mardian concluded:
The fact that two such controversial figures as Bernstein and Father Berrigan are collaborating on the dedication program should appear to offer sufficient reason for inquiries as to just what mischief they are up to.  It would also be interesting to know just how Father Berrigan's contribution to this "Mass" is to be furnished to Bernstein — openly through regular channels, or clandestinely.
The Mardian memo reached Pat Buchanan, who sent it to the Domestic Council's Bud Krogh.  Buchanan wrote: "My view is that we ought to find someone who can definitely translate that Latin Mass Bernstein is working on — to make sure this is accurate."  And he had someone in mind: ""get us a good Jesuit to translate, maybe Father McLaughlin…"  This was John McLaughlin, a friend of Buchanan's, who had recently joined the White House speechwriting staff.
Coincidentally, two weeks before, Krogh had been tasked with tracking down information regarding the leak of the Pentagon Papers (which had first appeared on the front page of The New York Times on 13 June).  Mr. Ross, understandably but incorrectly, assumes that this was common knowledge and explains why Krogh was given this assignment — an assumption supported by the fact that Krogh in turn tasked his new aide G. Gordon Liddy with obtaining a copy of the Mass's libretto.  What Buchanan more likely had in mind when he wrote "we should be able to get a copy of what he is preparing — there will have to be rehearsals," was Krogh's Domestic Council responsibility for matters involving the District of Columbia.
Mr. Ross writes —correctly— that "Several personalities involved in this exchange of memos had ties to the White House's Special Investigations Unit, better known as the Plumbers, and later to the Committee to Re-Elect the President, or CREEP, which" —incorrectly— "organized the Watergate break-in of 1972."  (The break-in emerged full-blown from the pervervid brain of G. Gordon Liddy, under the patronage of John Dean, and with the acquiescence of Jeb Magruder and, alas at least temporarily, John Mitchell; its only —tangential— CREEP connection was the presence of CRP employee James McCord among the burglars.)
Liddy, on 6 August, reported that he had met with White House Counsel John Dean —the spider at the center of so many webs—who "stated that his office had had the matter for more than a week and obtained a copy of the Mass.  Dean stated that it is definitely anti-war and anti-establishment, etc."
On 9 August Haldeman told RN that Fr. McLaughlin's opinion, rather than reflecting Dean's dire judgment, was simply that Mass would be "very depressing."   Reporting on a preview performance of Mass on 7 September, Haldeman answered RN's question "Is it an opera?" by simply saying that it was "weird."  The next day Haldeman reported that, while some passages were spectacular, others were "atonal-type music."
As is clear from the several tapes Mr. Ross excerpts in his third post ("Bernstein in the Nixon Tapes"), RN's conversations with Haldeman have mostly to do with the media minefields involved in attending —and thereby imposing Presidential protocol on— what would clearly otherwise be a Kennedy celebration.  (As it turned out to be.  Following the performance, Rose Kennedy presented Bernstein with a commemorative medal.)
The Solomonic solution they worked out was that RN would give the Presidential Box to Mrs. Onassis for Wednesday night's opening of the Opera House with the Mass she had commissioned for the occasion.
And on the following, Thursday, night, RN would attend the National Symphony's opening of the Center's Concert Hall.
On 9 September, Haldeman informed RN that The New York Times' review of Mass, by the paper's chief music critic Harold Schonberg, would apparently "kick it around," calling the work superficial and overplayed.  In fact, Schoenberg —who had been no friend of Bernstein's for some time— pulled out all the stops when it came to Mass.  In the Sunday paper he called it "A combination of superficiality and pretentiousness, and the greatest mélange of styles since the ladies' magazine recipe for steak fried in peanut butter and marshmallow sauce."
Haldeman reported Len Garment's opinion that it is "quite spectacular theater" but, as a combination of West Side Story, Jesus Christ Superstar, and Hair, "it's got a lot of lousy stuff in it."
Most of Mass's reviews ranged from lukewarm to underwhelmed; many were downright hostile.  Among the major national publications, the only glowing review appeared in The Wall Street Journal. And that review was written by, of all people, a new member of the Nixon White House staff —only on board since 2 August— who was working in the small room he shared with Dick Cheney in Don Rumsfeld's second floor West Wing suite.
On the night of Wednesday, 8 September, this newly-minted aide was in the Kennedy Center's Opera House for the premiere of Mass.  And on the 10th, his fulsome review appeared in the Journal.
And that fellow was…..me.
I had been reviewing books for the Journal for a couple of years, and had contributed a few theater reviews before moving to Washington to begin a White House Fellowship.  I had suggested the Mass reviewing gig, and the paper, which hadn't planned to  note the occasion, had been able to make last minute arrangements for a single ticket.
I opened my review noting that Mrs. Onassis, by deciding not to turn up for the opening, had succeeded in making herself the center of attention.
The John F. Kennedy Center for the Performing Arts should have achieved its apotheosis at its opening on Wednesday night.

Everything was right for a unique and moving moment in American history.  The opening piece was Leonard Bernstein's "Mass," which was commissioned by Mrs. Kennedy soon after the President's death.  It was the right choice of music from the right composer.

So for the opening of this center, the late President's memorial in Washington, the sole, but crucial, missing element was Mrs. Onassis herself.  By suddenly deciding not to attend, she did exactly what she said she was trying to avoid, and for many people turned the opening night into yet another Jackie-watch.  Would she or wouldn't she?  She didn't, and "Mass" was thus robbed of the real presence it needed to consecrate the hall.

Because for all its musical interest and worth, "Mass" was of necessity a piece d'occasion.  This center is the memorial by which John F. Kennedy will be remembered.  Now, short years later, when historians are already placing him in a troubled and critical perspective is the time to recall and commemorate that vision and spirit which he represented and embodied.
Then I plunged right in praising Mass:
Mr. Bernstein's work…is a complex, convoluted, striking, rollicking, stunning work of art.  It is also very beautiful, both to hear and to look at.  The concept itself is not perhaps as original as it must have been when he first began work on it.  Indeed, it is now almost a genre piece, and as such it will undoubtedly be weighed and found wanting by many.  Hard rockers will find it inferior to the Electric Prune's "Mass in F Minor"; the general public will find it less appealing and catchy than "Jesus Christ Superstar"; and theater-goers will find it far less stimulating than "Hair."

And yet it is the mixed-media masterpiece toward which Mr. Bernstein's theatrical and musical careers have been pointing.  Echoes of all the best that have gone before are here fulfilled; his broad and deep theological vision, already indicated in his first (Jeremiah) and third (Kaddish) symphonies; his exquisite solo settings in the lamentation and kaddish of the symphonies and in the stunning "Chichester Psalms"; his popular melodic and rhythmic command in "West Side Story."
Mass opens simply, with the Celebrant strumming a guitar and singing "A Simple Song."  This clip is from a staged concert performance in August 2007 in Riga, Latvia.  The Celebrant is Douglas Webster; the conductor is Maris Sirmais.
At least to my ears, the Latin text turned out to be mostly in Broadway ballad-friendly English.
The texts of the "Mass" are from the Roman liturgy with additions by the composer and the young author of "Godspell," Stephen Schwartz.  But Mr. Bernstein's hand is the most heavily present; the same kind of almost embarrassingly naïve and obvious lyrics which marked his opera "Trouble in Tahiti" are here, but here they are serving a vision so grand and towering that they seem to give it both an impetus of sincerity and a comforting human touch.
Gordon Davidson impressively and theatrically marshaled the cast of two hundred — including Alvin Ailey's dancers, a brass band, and a massed choir — and kept the almost two hour intermissionless production from ever being "depressing."  But there was no doubt that it was —as befits a requiem— serious bordering on sombre.
This "Mass" is in fact an anguished cry about our loss of faith.  The Gloria is a quiet little song regretting that the girl doesn't ever seem to say Gloria any more; and the Credo is a driving lament that the man can no longer say "I believe."  The Agnus Dei becomes a fierce, almost revolutionary red-lit surging, stopping demand for the peace promised: dona nobis pacem.  At the end a Mahleresque flute birdsong and the plainsung voice of a child restore the hope if not the faith for the final whispered Pax Tecum and the moving choral communion.  The text is full of word-plays in Latin, English, Greek and Hebrew.  "Accidents Do Happen," sung during the consecration after the host and wine have been dropped, is perhaps the most obvious if not the best.

There are, to be sure, moments of excess and even a few of pure hoke, but in a work of this size and scale these are inevitable and piddling.  The insight Mr. Bernstein has shown into the mass and our times is uncanny and overwhelming; it is also very sophisticated and can hardly be justly judged on the basis of one viewing of this really razzmatazz theater show.
My review appeared on Friday, so I was able to include the Thursday night Concert Hall opening (which I hadn't attended):
In the concert hall, which opened last night, President and Mrs. Nixon were treated to a program that would have been solid midweek subscription concert series fare for a good municipal orchestra.  Like "La Grande Scene," the center's expensive restaurant, whose menu is entirely in French, the National Symphony under Antal Dorati chose a wholly non-American program.  Is it parochial or foolish patriotic to have preferred hearing Leontyne Price singing Samuel Barber, Gershwin's "Concerto in F", and, say, and Ives symphony, to hearing "the Rite of Spring" for the Nth time, however well played?  Some of the center's future fare is similarly prosaic or unaccountably exotic, and whether the center will be a viable economic proposition at the box-office will remain, anxiously, to be seen.  Be that as it may, it is now well and truly opened.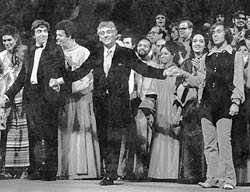 Before the kissing had to start: Leonard Bernstein, flanked (left) by director Gordon Davidson and co-lyricist Stephen Schwartz, takes a curtain call following the premiere of Mass at the Kennedy Center on 8 September 1971.
Bernstein's notes for Mass reflect some of the advice given by Daniel Berrigan: "Father Dan said today: Leave them with the militant mood. You yell at them and turn off the lights."  In fact, the ending Bernstein chose for Mass was exactly the opposite: a serenely moving, all but unaccompanied, choral hymn.
Almighty Father, incline thine ear.
Bless us and all those who have gathered here.
They angels send us,
Who shall defend us all:
And fill with grace
All who dwell in this place.
Amen.
A dozen years later —in 1984— the overture had already begun at a preview of a Broadway musical when three people arrived, late, to take the adjacent seats.  As I stood to let them pass I summoned up my best "if looks could kill" look — and found that I was bestowing it upon Adolph Comden, Betty Green, and Leonard Bernstein, who took the seat next to me.
At the intermission I introduced myself to him as a long-time admirer.  To set myself apart in that vast category, I said that, although I doubted he would remember it, I had written The Wall Street Journal's review of Mass.  He smiled warmly, claimed to remember it, and said "Let me buy you a drink."  (Reading my review last week, a friend said, "For that review he should have bought you a car.")
Despite its critical drubbing —with the one noted notable exception— Mass found an immediate popular audience; in fact, it remains the best-selling multi-disc classical recording of all time.  Of the three currently available recordings, my favorite is the contemporaneous studio recording conducted by the composer and featuring the original cast. In 2004 Kent Nagano, and earlier this year Kristjan Jarvi released their versions.  On 25 August, Marin Alsop's much-awaited Baltimore Symphony recording will be available; she prepared it as part of her 2008 Bernstein season celebrating what would have been her mentor's 90th birthday.
There is also a DVD of a 1999 performance at Vatican City.