Nixon National Cancer Conference Examines Cancer Research Breakthroughs with a Patient-centric Point of View
On December 7 and 8, noted clinicians, researchers, journalists, NCI-designated cancer center directors, patients, patient advocates, ethicists, medical professionals and public health officials gathered for the second annual Nixon National Cancer Conference at the Richard Nixon Presidential Library in Yorba Linda, California.
The conference emphasized a patient-centric and problem-centric approach to cancer care, focusing on the areas where cancer research is leading to breakthroughs across the medical spectrum.
The NNCC opened with a dinner sponsored by City of Hope Orange County and a video highlighting President Nixon's advocacy of –and signature on– the National Cancer Act of 1971. The Nixon family was represented at the NNCC by Melanie Eisenhower, a child life specialist at the Cancer Center at Children's Hospital of Philadelphia and the youngest granddaughter of President Nixon.
Nixon Foundation President & CEO Jim Byron announced that the Richard Nixon Foundation has established the Andrew von Eschenbach Award, a new annual award that will be given to an individual whose work has contributed to advances in research and treatment that has relieved suffering and prolonged and saved lives and whose vision continues to inspire. The first recipient will be selected next year. Marlene Malek joined Dr. von Eschenbach on-stage for the annnouncement, which included the gift to Dr. von Eschenbach of an American flag that flew over President Nixon's Birthplace.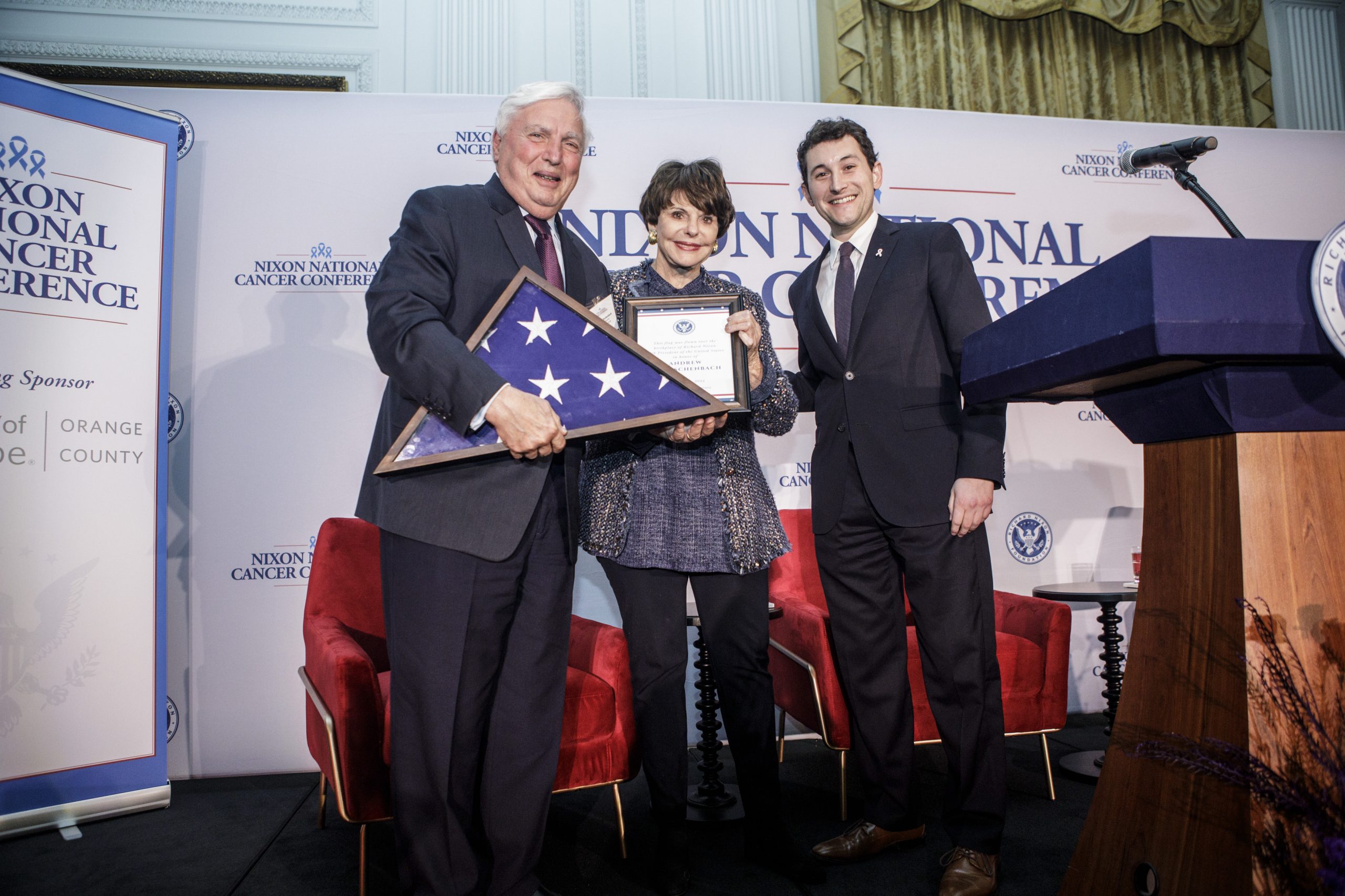 The conference featured the following programs:
Mathematics, Physics and Cancer explored how converging disciplines are being applied to lead to a better understanding of the development and spread of cancer, optimizing current treatments and leading to new breakthroughs.
Panelists included:
Mauro Ferrari, University of Washington
Robert A. Gatenby, Center of Excellence for Evolutionary Therapy, University of Florida
Edward S. Kim, City of Hope Orange County and City of Hope National Medical Center
Patrick Soon-Shiong, NantWorks
Regenerative Medicine and Stem Cell Therapy explored cancer research breakthroughs in neurophysiology and neuropsychology. Panelists explained the great results in blood cancer treatments and discussed how to apply these advancements to other types of cancer. Keeping the conversation focused on the patient, panelists also discussed accessibility, community education and engagement.
Panelists included:
Stefan Ciurea, UCI Health
Stephan A. Grupp, Children's Hospital of Philadelphia (CHOP)
Linda H. Malkas, City of Hope National Medical Center
Donald L. Trump, Inova Schar Cancer Institute
Robert Winn, VCU Massey Cancer Center
Immunology and Inflammation explored how to use our own immune systems to fight cancer. From a patient-centric point of view, the panelists discussed: 1) What are the problems? 2) What are the opportunities? and 3) What do we do about it?
Panelists included:
Anna D. Barker, Ellison Institute for Transformative Medicine at USC
Carlos Becerra, Hoag Family Cancer Institute
Carolyn Britten, Amgen
Thomas F. Gajewski, University of Chicago Comprehensive Cancer Center
A luncheon presented by the Hoag Family Cancer Institute featured a keynote address from Andrew von Eschenbach, M.D., former Director of the National Cancer Institute (NCI) and FDA Commissioner. He remarked how the National Cancer Act lives on because of the vision of Richard Nixon.
Cancer and Nutrition highlighted the interplay between diet and cancer cells and explored new trends in patient care that treat food as medicine. The panelists were consulted on the lunch menu for the conference and created a menu custom-tailored with healthy ingredients.
Panelists included:
David Heber, Center for Human Nutrition at UCLA
Richard T. Lee, City of Hope Orange County
William W. Li, The Angiogenesis Foundation
Susan T. Mayne, Center for Food Safety and Applied Nutrition, FDA
Dariush Mozaffarian, Tufts Friedman School of Nutrition Science and Policy
Tech in Medicine explored how medicine and technology can come together to create cutting edge innovations to bring us closer to more cures for cancer and other diseases. Panelists debated both the opportunities and challenges of using technology in patient care including artificial intelligence, access to personal data and early detection methods.
Panelists included:
David Agus, Ellison Institute for Transformative Medicine at USC
William Cance, GRAIL
Lily Peng, Verily/Google
Peter Pisters, The University of Texas MD Anderson Cancer Center
The 2022 Nixon National Cancer Conference was sponsored by:
Presenting Sponsor
City of Hope Orange County
Premier Sponsors
Hoag Family Cancer Institute
Stanbridge University
UCI Health
Additional Funding Provided by
Providence Mission Hospital
Providence St. Joseph Hospital: The Center for Cancer Prevention and Treatment
Providence St. Jude Medical Center
2022 Conference Leadership Steering Committee
Melanie Eisenhower, M.S., C.C.L.S.
Marlene Malek, R.N.
Claire Pomeroy, M.D.
Ellen Sigal, Ph.D.
Andrew von Eschenbach, M.D. 

Honorary Congressional Host Committee
Hon. Don Bacon
Hon. Nanette Diaz Barragan
Hon. Stephanie Bice
Hon. Earl L "Buddy" Carter
Hon. Dianne Feinstein
Hon. Brian Fitzpatrick
Hon. Richard Hudson
Hon. Young Kim
Hon. Barry Moore
Hon. Guy Reschenthaler
Hon. Mike Rounds
Hon. Thom Tillis
Hon. Joe Wilson