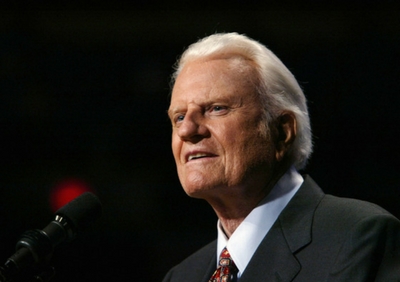 Prayer Service and Breakfast to celebrate the life of the Rev. Dr. Billy Graham
Remembering America's Ambassador for Christ and Pastor to Presidents
Friday, March 2 at 9:00 AM
Free Event Admission
Join us at the Richard Nixon Presidential Library and Museum to reflect on the life of America's Ambassador for Christ.
On projector screens in its East Room, the Nixon Library will broadcast Rev. Graham's memorial service live from the Billy Graham Library in Charlotte, North Carolina, and we invite members of the public to attend. At its conclusion, prayers and remembrances will be offered in tribute.
Attendees can write condolence messages in a book that will be delivered to the Graham family.
President Nixon and Rev. Graham were close friends for 44 years. Rev. Graham officiated both First Lady Pat Nixon's 1993 memorial service and President Nixon's 1994 state funeral at the Nixon Library. Richard Nixon spoke at a Billy Graham Crusade at Yankee Stadium as Vice President in 1957 and at the University of Tennessee as President in 1970.