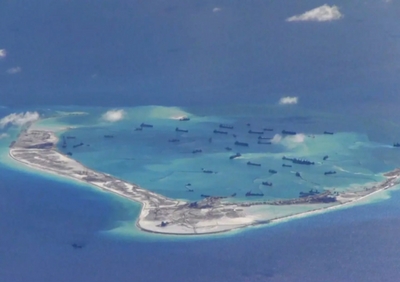 The U.S., China, and the Geopolitics of the South China Sea
Free Event Admission
The South China Sea is among the world's epicenters of geopolitical competition. 30 percent of all global trade ($5.3 trillion) passes through the waterway each year. China and its East Asian neighbors, including Indonesia, Japan, The Philippines, and Vietnam all have territorial claims, and established maritime defenses. Meanwhile in its pivot to Asia, the United States has been conducting freedom of navigation tours of its vessels in waters claimed by China.
How can the U.S and China reduce the risk of conflict, and work on a peaceful and equitable resolution in this pivotal international waterway?
Participants:
Cortez A. Cooper III is a senior international/defense researcher at the RAND Corporation and a member of the Pardee RAND Graduate School faculty. At RAND he provides assessments of security challenges across political, military, economic, cultural, and informational arenas for a broad range of U.S. government clients. He has served in the U.S. Navy Executive Service as the senior analyst for the Joint Intelligence Center Pacific, U.S. Pacific Command. As the senior intelligence analyst and Asia regional specialist in the Pacific Theater, he advised Pacific Command leadership on trends and developments in the Command's area of responsibility. His 20 years of military service included assignments as both an Army Signal Corps Officer and a China Foreign Area Officer. In addition to numerous military decorations, the Secretary of Defense awarded Cooper with the Exceptional Civilian Service Award in 2001.
Gregory B. Poling is director of the Asia Maritime Transparency Initiative and a fellow with the Southeast Asia Program at the Center for Strategic and International Studies (CSIS). He oversees research on U.S. foreign policy in the Asia Pacific, with a particular focus on the maritime domain and the countries of Southeast Asia. His research interests include the South China Sea disputes, democratization in Southeast Asia, and Asian multilateralism. He is the author of The South China Sea in Focus: Clarifying the Limits of Maritime Dispute (CSIS, July 2013) and coauthor of multiple works including Building a More Robust U.S.-Philippines Alliance (CSIS, August 2015), A New Era in U.S.-Vietnam Relations: Deepening Ties Two Decades after Normalization (CSIS, June 2014), and A U.S.-Indonesia Partnership for 2020: Recommendations for Forging a 21st Century Relationship (CSIS, September 2013).