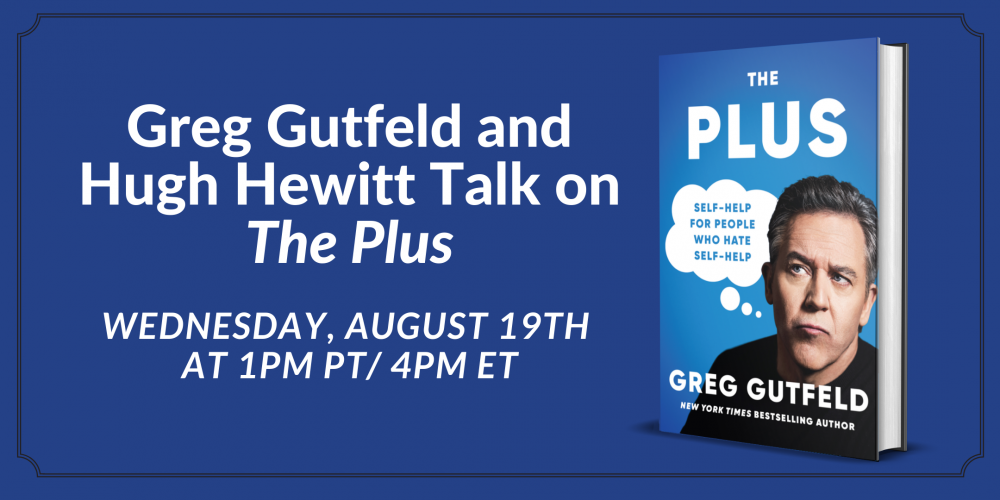 Greg Gutfeld and Hugh Hewitt Broadcast on
The Plus
Wednesday, August 19th at 1:00pm (PST)/4:00pm (EST)
Greg Gutfeld and Hugh Hewitt will team up for a live conversation on The Plus, Greg's new simple approach to self-help.
Before Greg Gutfeld was a Fox News star and a New York Times best selling author, he was a self-help writer for health magazines. With his signature political incorrectness, Gutfeld delivers tough love and timeless truths about happiness and fulfillment.
Tickets are $38 and include an autographed copy of The Plus and exclusive access to the broadcast feed.
Plus — Provide us your best telephone number during registration and Greg will, at random, call a few ticket buyers the day prior to the broadcast to include as part of the show!
– – –
Greg Gutfeld is a New York Times bestselling author, satirist, humorist, and magazine editor. He is the host of The Greg Gutfeld Show and cohost of The Five on Fox News. Prior to joining Fox, Gutfeld was editor of Men's Health magazine. He later became editor of Stuff, helmed Maxim magazine in the United Kingdom, and was host of the legendary cult TV phenomenon Red Eye.