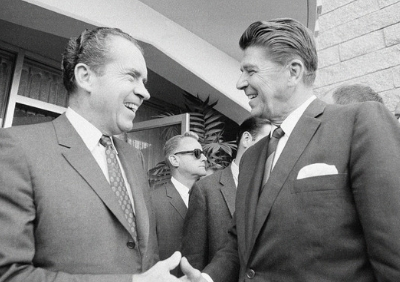 Tour of the Reagan Library
Join the Richard Nixon Foundation for a special Members-Only Trip and Tour to the Ronald Reagan Presidential Library and Museum on Tuesday, March 5th.
Tour will focus on the friendship and California ties between Richard Nixon and Ronald Reagan
A charter bus from Nixon Library is included but limited to first 50 registrants.
Please meet at the Nixon Library at 8:00 am.
Tuesday, March 5
– Bus departs Nixon Library for Reagan Library at 8:30 am
– Tour of Reagan Library with Kevin Cartwright from 10:30 am -12:00 pm
– Lunch and free time at the Reagan Ranch Cafe, Tour the Pompeii Special Exhibit from 12:00 – 3:30 pm
– Bus departs Reagan Library for Nixon Library at 3:30 pm
Entrance to the Reagan Library is free as a member of the Nixon Foundation (please see your membership card for the specific number of guests you can enter for free). However, all attendees must pay the Pompeii exhibit surcharge of $13. Member attending is responsible for any admission fees and/or surcharges for additional guest, meals etc.
Please contact Anne Brown for questions, [email protected] or if you'd like to upgrade or join as a Nixon Foundation Member.